Best Speckled Trout Fishing Tackle
This article will thoroughly cover the best speckled trout fishing tackle. Speckled trout, also called spotted sea trout, are a very popular saltwater inshore game fish. In order to be successful fishing for speckled trout, anglers will need the proper tackle and equipment.
The best speckled trout fishing tackle includes a 7 foot medium light rod and reel, hooks, floats, leader, and a selection of artificial lures. The top lures will consist of jig heads and soft plastic baits, spoons, and plugs. This is the tackle that anglers will need in order to consistently produce speckled trout.
Best speckled trout fishing tackle

Anglers fishing for speckled trout can choose between spinning and baitcasting tackle. Spinning tackle is more popular as it is a bit easier to use, especially for novice anglers. It is also best for smaller fish and for casting light lures free lining light baits. Baitcasting tackle is popular along the upper Gulf Coast, where anglers use heavier corks and lures for larger fish.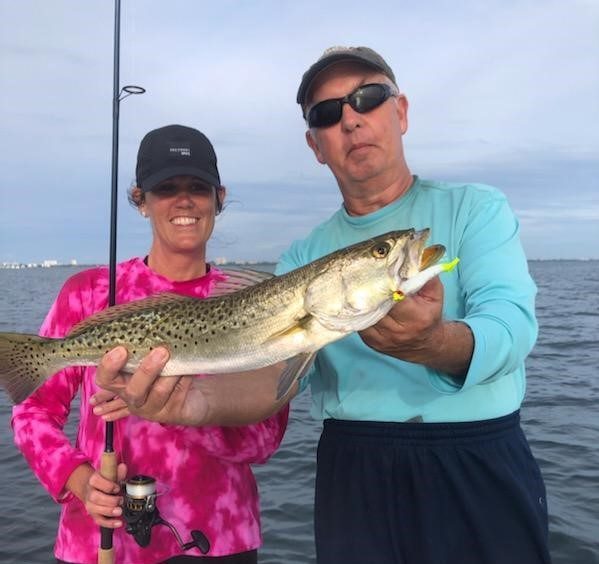 The Rod and Reel are arguably the most important components. The best route for speckled trout fishing is a 7 foot to 7 1/2 foot medium light rod with a fast action. Fast action refers to the strength and taper of the rod. Fast action rods are stout in the butt section but very limber at the tip. This allows anglers to cast light baits and lures a reasonable distance while providing the strength to fight a decent fish.
Speckled trout are also famous for the very thin membrane in their mouth. It is very easy for a speckled trout to shake its head and throw the hook. A rod such as the one outlined above with a nice limber tip will help facilitate landing more speckled trout. The rod should be matched with a 2500 or 3000 series spinning reel or appropriate baitcasting reel. Capt. Jim likes the Penn conflict combo, it is a quality outfit for around $200. Lew's sells some quality baitcasting combos at a very affordable price.
"Fishing Lido Key is a participant in the Amazon Associates Program, an affiliate advertising program designed to provide a means for sites to earn advertising fees by advertising and linking to Amazon. As an Amazon Associate I earn from qualifying purchases. "
Fishing line options
Anglers have two basic choices when it comes to fishing line; monofilament line or braided line. Each has its advantages and disadvantages. Monofilament line is much less expensive. However, it does not last as long and does have some stretch. Some anglers actually prefer the stretch when fishing for speckled trout, which have those tender mouth mentioned above. Braided line is more expensive but last a long time. It also facilitates longer casts and has excellent sensitivity with no stretch. It really is just a matter of personal preference.
Click these links to shop Amazon for monofilament and braided fishing lines
Leaders are used when saltwater fishing
Anglers fishing and saltwater almost always use some type of leader. This is true with speckled trout fishing as well. Speckled trout do not have a mouth full of razor-sharp teeth, such as is the case with bluefish and Spanish mackerel. However, they do have raspy teeth and anglers will encounter other species when chasing speckled trout. Therefore, a leader is required.
Most anglers opt for a 24 inch to 30 inch piece of 25lb or 30lb fluorocarbon leader. This is an excellent all round choice for most situations anglers will encounter. In extremely clear water, anglers can drop down to 20 pound or even 15 pound test. Conversely, in muddy water or when fishing around heavy structure, anglers can go up to 40 pound test. The leader can be attached with a line to line knot such as a double Uni-knot or by using a small black swivel.
Hooks and floats
Live bait is extremely effective when fishing for speckled trout. In fact, more trout have probably been landed by anglers fishing a live shrimp under a popping cork and by all other methods combined. A few different hook sizes will cover most speckled trout fishing situations.
As mentioned above, speckled trout have a thin membrane in their mouth. This requires the use of a fairly light and fine wire hook as opposed to sturdy live bait hooks that are often used in saltwater for other species. Anglers will definitely land more trout using a lighter hook. A #1/0 short shank live bait hook will cover the vast majority of situations speckled trout anglers will find themselves in. Some anglers do prefer the long shank Aberdeen style hook, though this may straighten out on a larger redfish or other game fish.
Speckled trout are often caught over submerged vegetation. These are most often referred to as grass flats. In these situations, anglers use a float of some sort to suspend the shrimp or other live bait just above the top of the grass. There are two types of floats that anglers use; popping corks and a larger, noisy clacking style float.
Click to read more about popping corks
Popping corks have a slot that runs down the length of them and a pin to hold them in place. When twitched sharply, the concave surface of the float digs into the water producing a popping sound which attracts game fish. The larger clack are style floats accomplish the same thing, only they are larger and put out a lot more noise.
Popping corks have the advantage of being easily added or removed, while the clack are style floats require a leader between the hook in the float. Both are very effective when fishing for speckled trout.
Top artificial lures for speckled trout fishing
Speckled trout will certainly hit artificial lures. Jigs, spoons, and plugs are all effective artificial lures for speckled trout and most other inshore saltwater species.
Jigs are productive speckled trout fishing lures
Without a doubt, the most popular artificial lure when fishing for speckled trout is the jig and grub combination. This consists of a jig head and in some type of soft plastic grub or tail added. The weight of the jig head will vary depending on fishing conditions such as depth and current. One quarter ounce is a very popular jig head size.
Anglers have endless choices when it comes to the soft plastic body that they add to the jig head. These come in a myriad of sizes, shapes, and colors that mimic just about every forage that's tackle trout feed on. Most imitate either a crustacean such as a crab or shrimp or a bait fish. 3 inch to 4 inch baits are most effective in the majority of fishing applications. Capt. Jim's two favorite soft plastic baits are the 4" Bass Assassin Sea Shad and the 3 inch gulp shrimp.
Fishing for speckled trout with spoons
Spoons are another very effective artificial lure for speckled trout and other species. There are two basic types of spoons, weedless spoons and open water spoons. Weedless spoons have a single hook in a weed guard in the spoon runs through the grass with the hook up, reducing snags. Open water spoons have a single treble hook instead. The Johnson Silver minnow and Johnson Sprite are two examples of very effective weedless and open water spoons.
Click these links to shop Amazon for Johnson Silver Minnow and Sprite spoons.
Plugs catch speckled trout, too
Plugs are very effective speckled trout fishing lures as well. Plugs either work on the surface, these are called top water plugs, or they dive down into the water and work different parts of the water column. Some plugs float on the surface and a lip causes the plug to dive down. Others sink slowly and suspend in a certain depth.
Capt. Jim's favorite top water plug is the Rapala Skitter Prop. It has a conical nose and a single propeller on the rear. When twitched sharply, it puts out a very enticing fish attracting noise. It is also a fairly easy bait for novice anglers to use as it has a lot of built in action. Top water plugs work best early and late in the day and on days with cloud cover.
Capt. Jim's favorite shallow diving plug is the Rapala X-Rap Slashbait. He most often uses the 08 size as it closely imitates sardines, herring, and finger mullet which speckled trout often feed on. Anglers can certainly go up in size to mimic larger bait fish. Olive and white are excellent all round colors. These are very versatile lures which can be cast out towards shoreline cover, over bars and flats, and even trolled effectively.
Click these links to shop Amazon for Rapala Skitter Prop and X-Rap plugs
MirrOlure manufacturers several extremely effective suspending lures for speckled trout. These are time-tested baits that are legendary among saltwater anglers. The MirrOdine very realistically emulates a sardine. The 52 M series is better for larger fish as it imitates pin fish, grunts, and mullet. Both baits are slow sinking and when twitched sharply will suspend at that depth.
Click this link to shop Amazon for MirrOlure plugs
In conclusion, this article on the best speckled trout fishing tackle will help anglers acquire the correct gear in order to be successful catching these popular and great tasting inshore game fish!