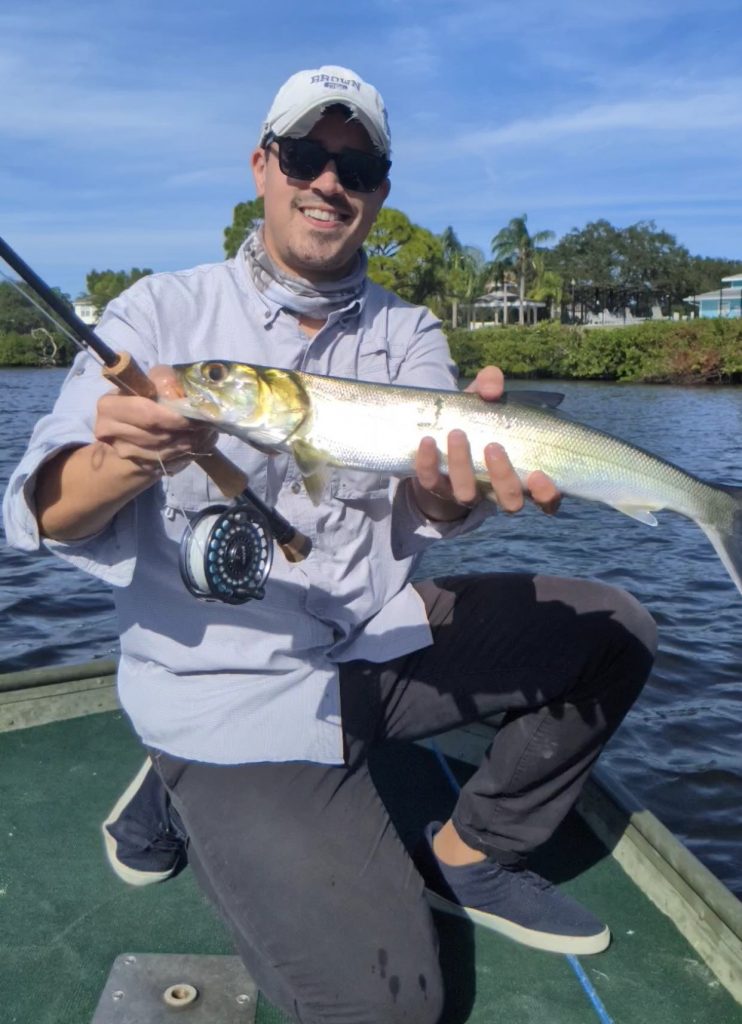 How to Catch Ladyfish – an Underrated Game Fish!
This article will thoroughly cover how to catch ladyfish. Ladyfish are a hard fighting fish, beautiful silver in color. They leap high and are very aggressive. However, some anglers look down on them, simply because they are not good to eat. Others find them to be not challenging enough. I am not in either of those groups!
As a fishing guide in Florida, my job is to bend the rods. Some guides put the emphasis on "eating fish", but I am more about action and fun, and if we catch a couple keepers for a meal, great! I have had ladyfish save the day for me on way too many charters to disparage them.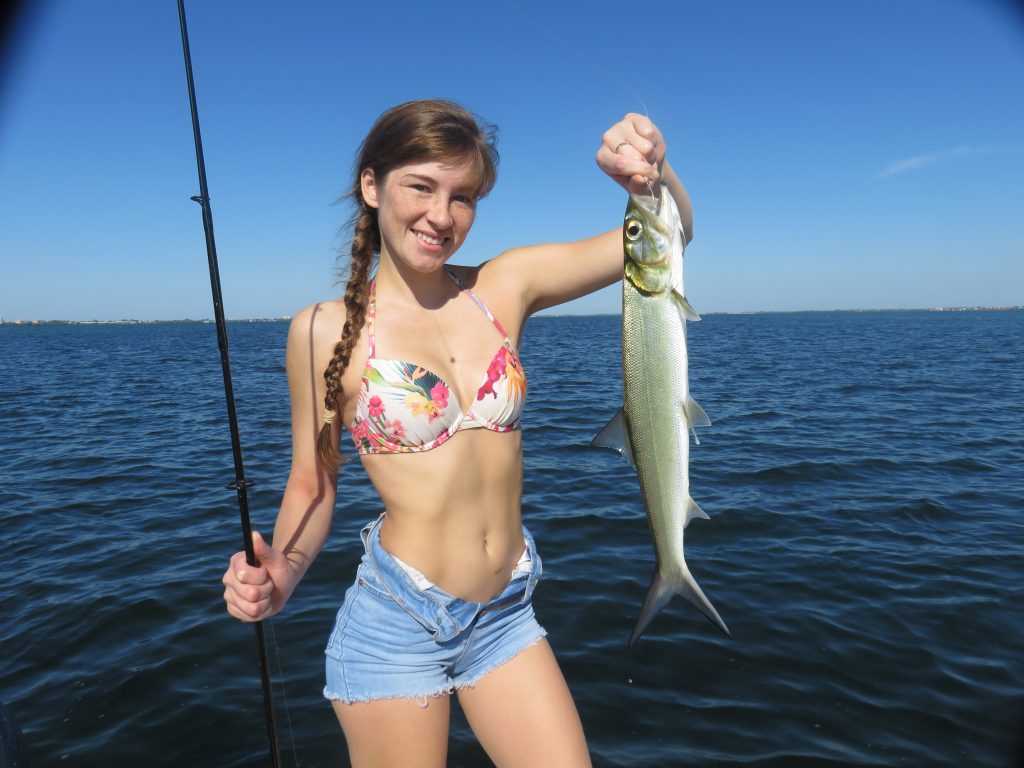 Ladyfish are found in in inshore coastal waters from Texas to South Carolina, wandering a bit further north at times. They are plentiful in tropical and subtropical waters. Ladyfish school up in large numbers which adds to the competitiveness and aggressiveness of the species.
How to catch ladyfish
There are several techniques that anglers can use when fishing for ladyfish. They can certainly be caught on live bait, with shrimp and small bait fish being the top choices. Ladyfish are the perfect species to target with artificial lures. This is the perfect opportunity to tech a novice angler how to use lures and gain confidence, as ladyfish usually provide fast action.
The best artificial lure for ladyfish is a jig. The technique that I most often use on my fishing charters is casting a jig in front of the boat as it drifts over grass flats or through the passes. Vertical jigging works great in deeper water. Anglers can use silver spoons as well, along with plugs. However, the single hook on a jig makes it ideal for handling and releasing ladyfish.
Best ladyfish tackle and lures
Anglers fishing for ladyfish do not need any special tackle. The same inshore rod and reel outfits used for speckled trout and mackerel will be fish for chasing ladyfish. My personal favorite outfit is a 7′ medium light rod with a fast action (stiff at the butt with a limber tip) and a 2500 series reel spooled up with 10 lb monofilament line. I like the stretch of mono when fishing for ladyfish.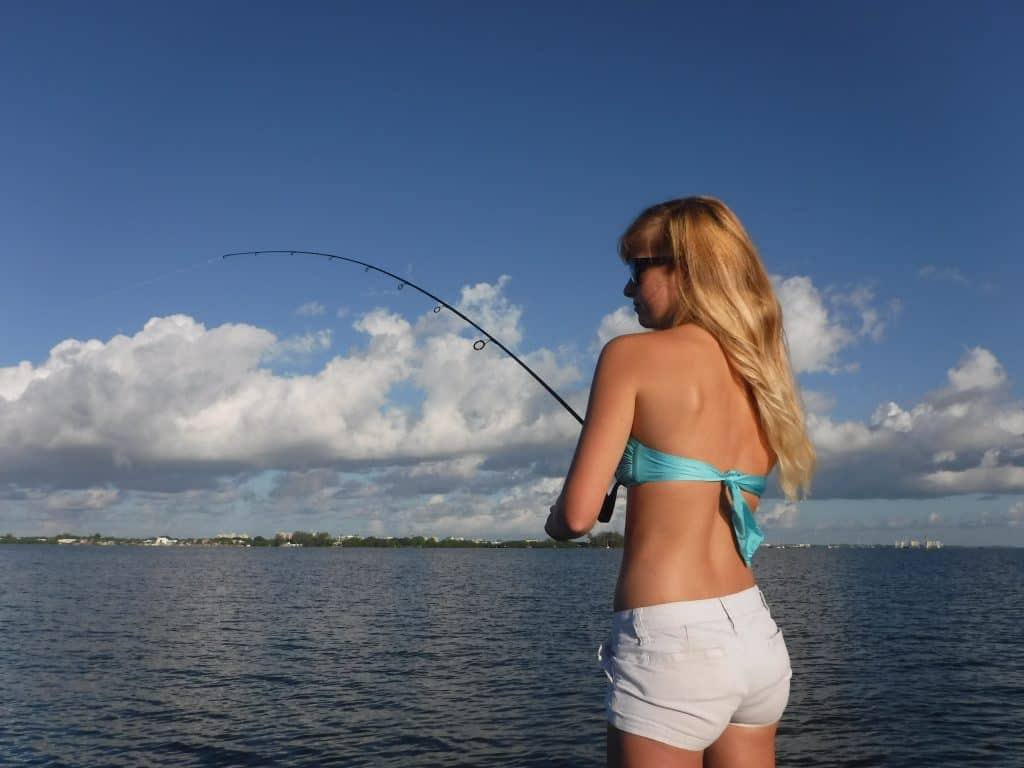 I always use a 24" piece of flourocarbon "shock leader" on my inshore trips. While ladyfish do not have teeth, they do have raspy jaws which will fray the line. This leader will save break offs and eliminate the need to re-tie after every fish.
As mentioned earlier, my favorite lure for catching ladyfish is a jig. A ¼ ounce jig head with a 3" to 4" soft plastic body is a very effective lure all over the world. I use it extensively in water less than ten feet deep. Drifting the grass flats and casting jigs produces ladyfish along with speckled trout, Spanish mackerel, bluefish, pompano, jacks, snapper, grouper, flounder, sharks, and more. A fast, erratic retrieve works best.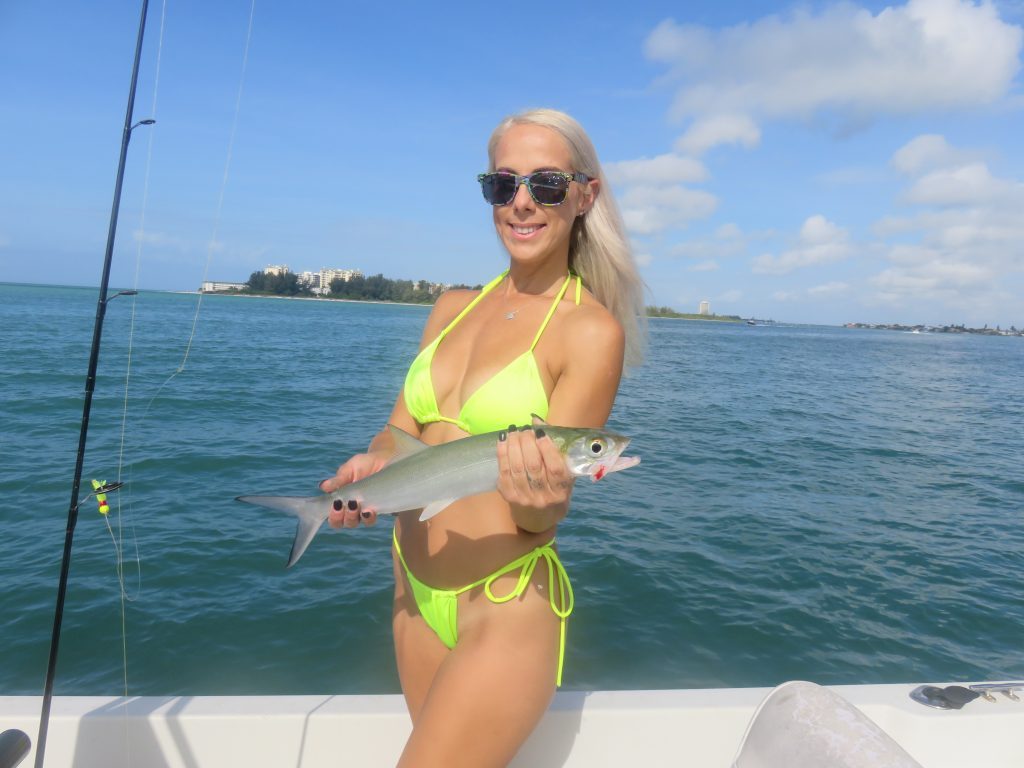 I also use a heavier "pompano jig", usually when drifting the passes. Passes are just another word for inlets. In the deeper water and stronger currents, the compact heavier jig will get down deeper. While ladyfish are often found higher up in the water column, a jig bouncing along the bottom is very effective.
Other lures for catching ladyfish
There are certainly other lures that will fool ladyfish. In fact, as long as the lure is not too large, almost any lure will catch them. One of the great aspects of fishing for ladyfish is that they are anything but fussy! Spoons and plugs are the top lures.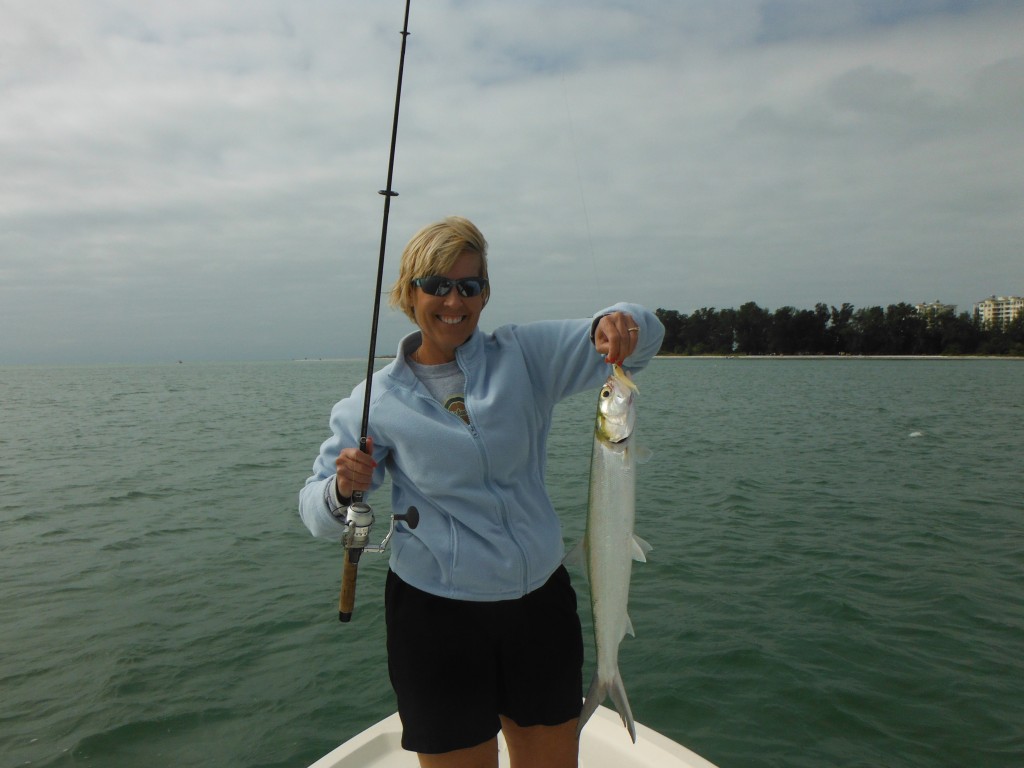 A ¼ ounce or ½ ounce silver spoon is a great lure for casting for ladyfish. They work great off the beaches where longer casts are often required. Many spoons have a treble hook, but they can easily be replaced with a single hook, making it safer and easier to release fish. Silver spoons will catch Spanish mackerel as well, if they are around.
Plugs work well on ladyfish, too. It is great fun seeing a ladyfish blast a topwater plug. Shallow diving and suspending plugs work very well. My two favorite plugs are the Rapala X-Rap Slashbait and MirrOlure MirrOdine. However, plugs do have the drawback of having treble hooks which can be dangerous and harmful to fish.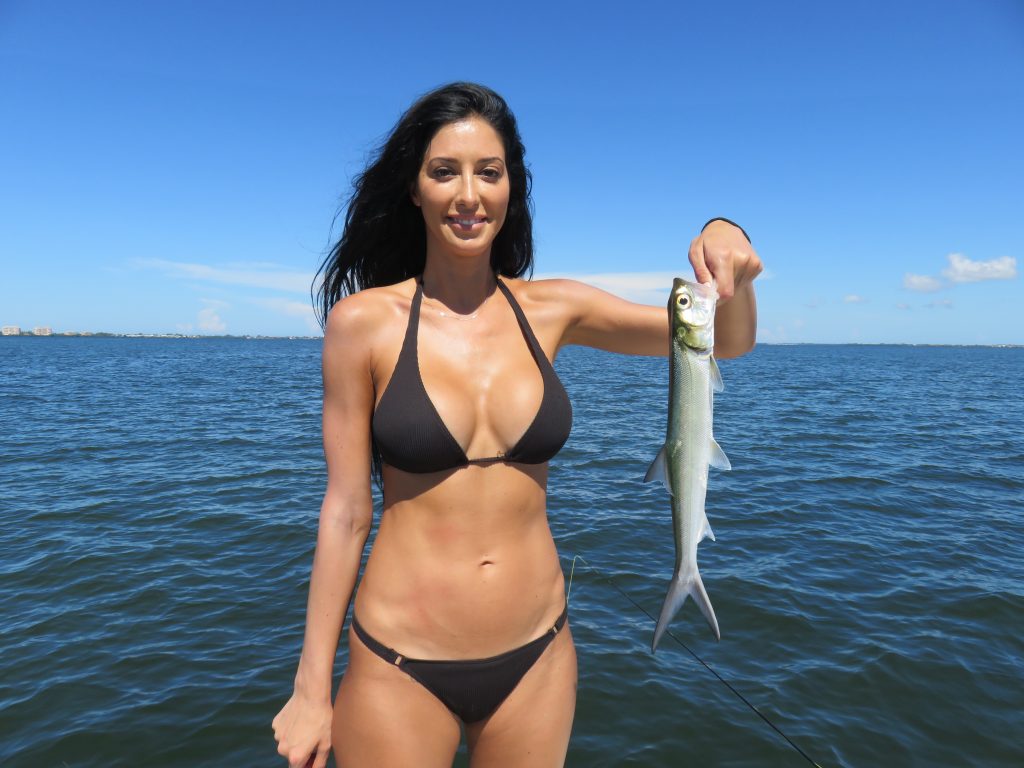 Both spoons and plugs can be cast or trolled. When casting, a fast erratic retrieve works best in most cases. At times, burning the lure back as fast as possible will work. Trolling is very effective and is a great way to locate ladyfish when they are proving difficult to find.
How to catch ladyfish with live bait
Live bait will most certainly catch ladyfish. While fast moving lures will often trigger a strike, there are times when ladyfish are fussy and live bait works best. A free lined live shrimp drifted over flats or in passes will catch a lot of ladyfish. The shrimp can also be fished under a float is effective as well. Frozen and frsh dead shrimp will catch them in the surf, along with whiting and pompano.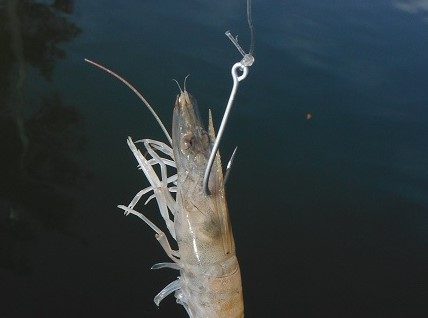 In the summer, there is a technique that I use often, it is called "live bait chumming". Using a cast net, hundreds of small bait fish are procured. The boat is anchored in a likely spot and a dozen live baits are tossed overboard every few minutes. It usually doesn't take long for ladyfish and other species to home in on the buffet. The action will be non stop!
Fly fishing for ladyfish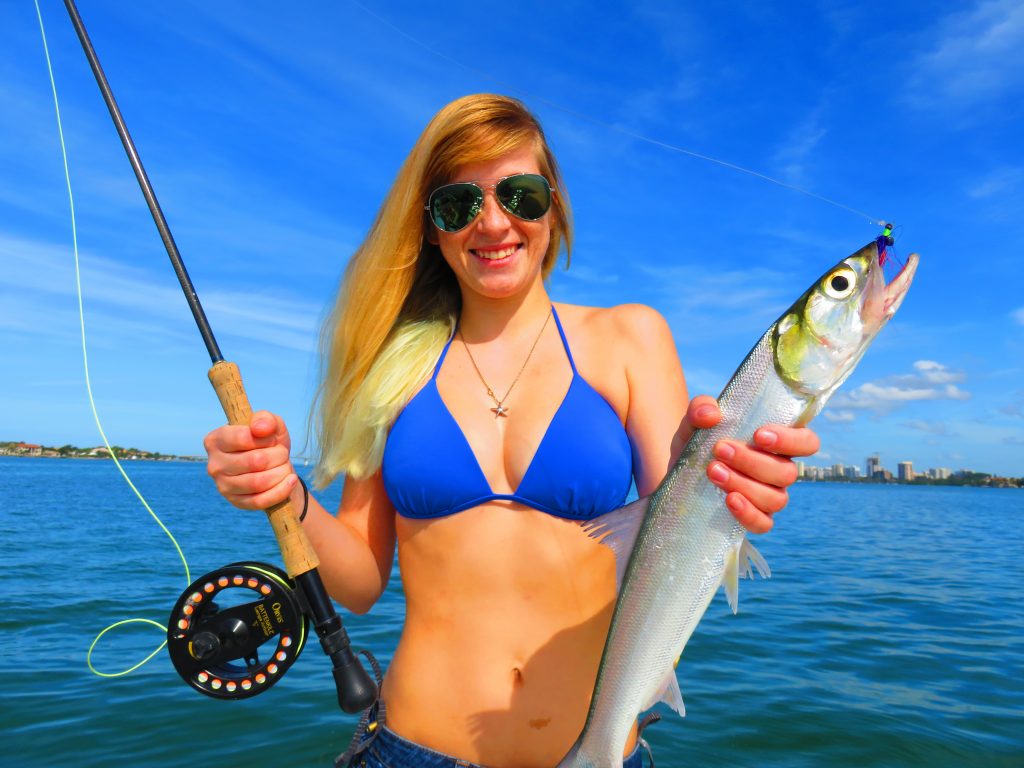 Ladyfish are a terrific species for anglers fly fishing! They strike hard and leap high into the air. A 7wt or 8wt outfit with a sink tip line and a Clouser Minnow is an excellent combination. As with casting lures, ladyfish respond best to a fast retrieve. Often times the challenge is stripping the fly fast enough!
Surf fishing for ladyfish
Surf fishing for ladyfish can be fun and productive. This is especially true along the Gulf Coast where wave action is often much milder. Anglers walking the beach and casting spoons, jigs, and flies into bait pods or blind casting in the trough will catch plenty od ladyfish. On the east coast, they are often caught by anglers using heavier more standard surf tackle.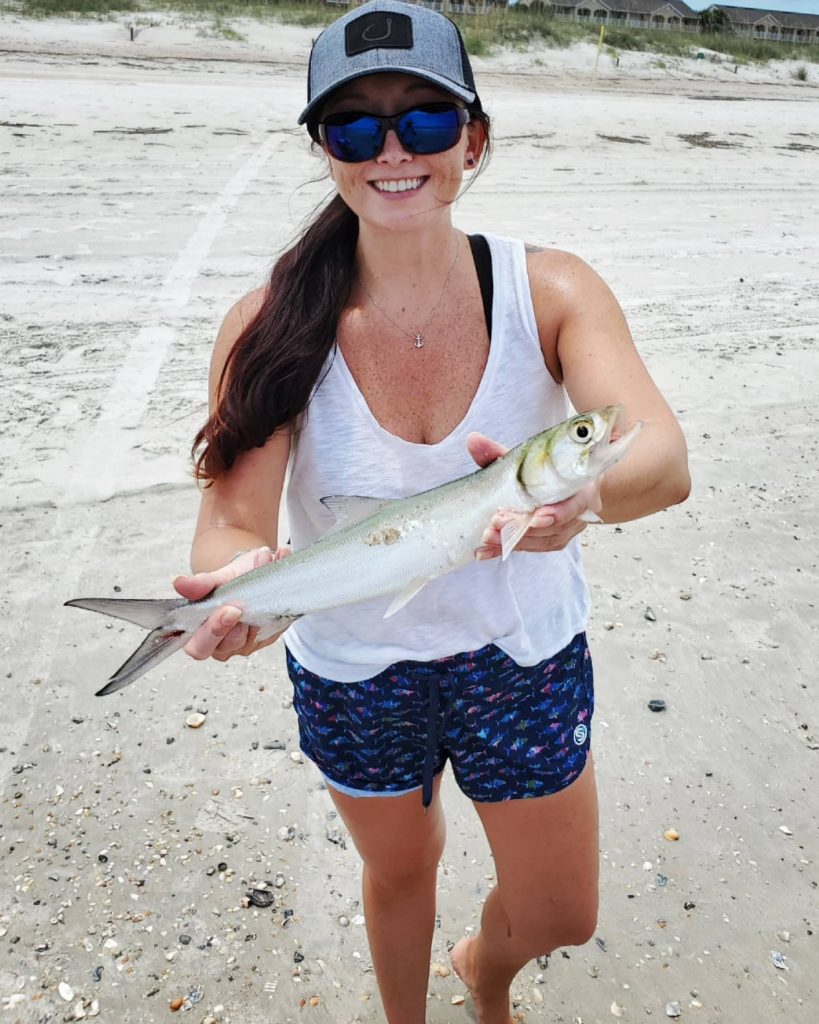 Fishing for ladyfish at night
Ladyfish are definitely nocturnal feeders. Many anglers fish lighted bridges and docks for snook. At times the ladyfish are so thick that the anglers are forced to leave! The lights attract shrimp and glass minnows, which in turn attracts game fish. Free lining a shrimp or bounciong a jig is very effective.
Using ladyfish for bait
There is another use for ladyfish besides great sport; bait. Ladyfish make excellent bait both cut up and live. Ladyfish are bony, bloody, and oily, which makes them undesirable for eating. However, that makes them effective as cut bait. Sharks in particular respond to cut bait. Many anglers searching for redfish are now using chunks of ladyfish fished near mangrove shorelines, especially in the warmer months.
Anglers seeking trophy snook will use small live laqdyfish for bait around bridges and other structure. This is mostly done at night using heavy tackle. Live ladyfish can also be used for tarpon in some areas.
In conclusion, this article on how to catch ladyfish will hopefully give these feisty game fish more respect!