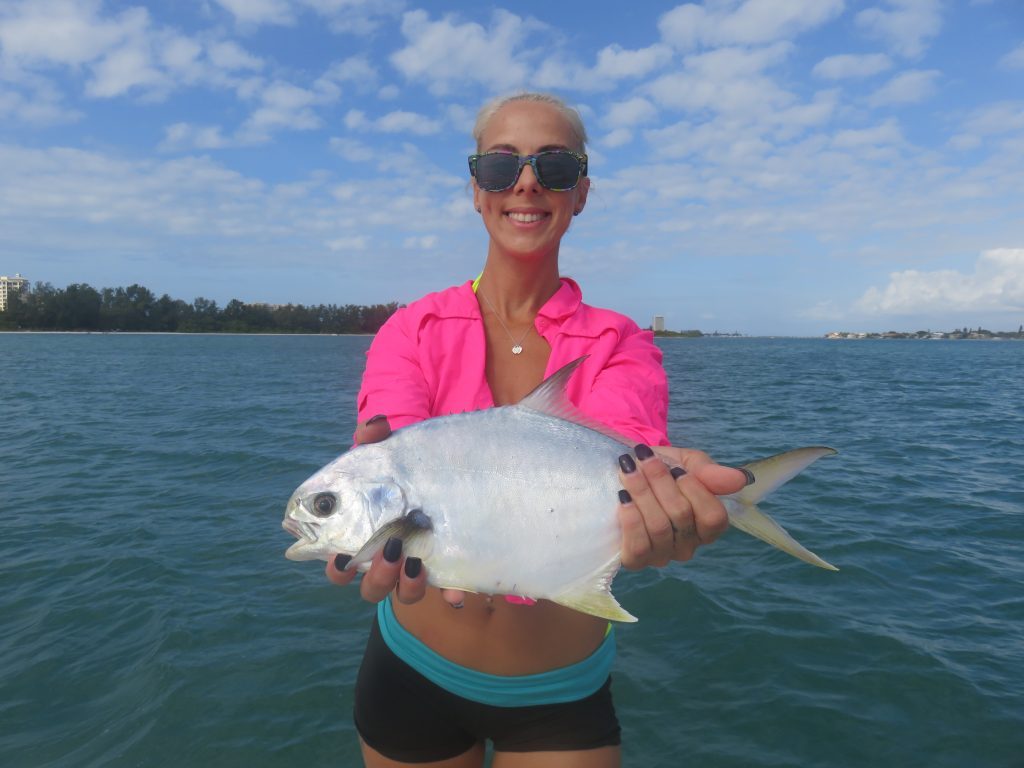 How to catch pompano – tips and techniques!
This article will thoroughly cover how to catch pompano. Pompano are a highly desired coastal saltwater game fish species. They fight incredibly hard for their size and are fantastic to eat. As a fishing guide in Florida, these are two highly desirable traits. Pompano are definitely a favorite among clients on my fishing charters! In this article I will share some great tips and information on how to catch pompano.

Pompano are in the jack family, sharing the wide body design. They are similar in appearance to both permit and jack crevalle. However, it really is easy enough to differentiate the species. Pompano average a couple o pounds and a 4 pound fish is a trophy. The record pompano is an 8 pound, 4 ounce monster.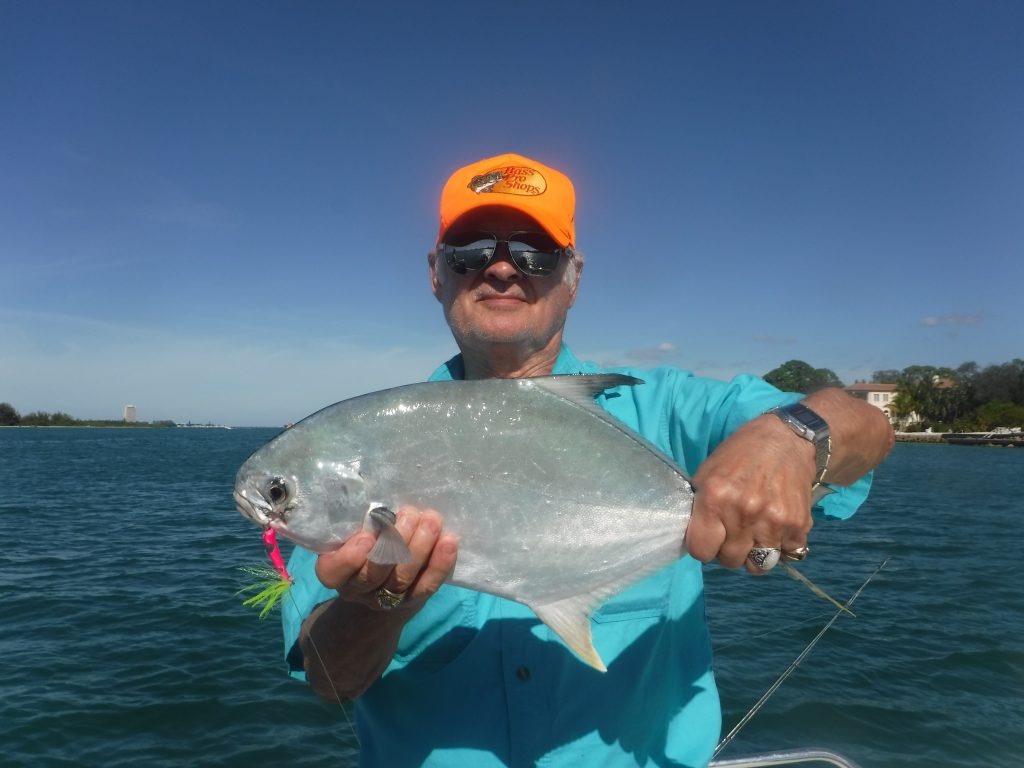 How to catch pompano
It is evident when looking at a pompano that they feed on the bottom. Pompano root along the bottom, dislodging crabs and shrimp. In fact, pompano feed primarily on crustaceans. Therefore, anglers targeting them do well presenting lures and baits right on or very close to the bottom.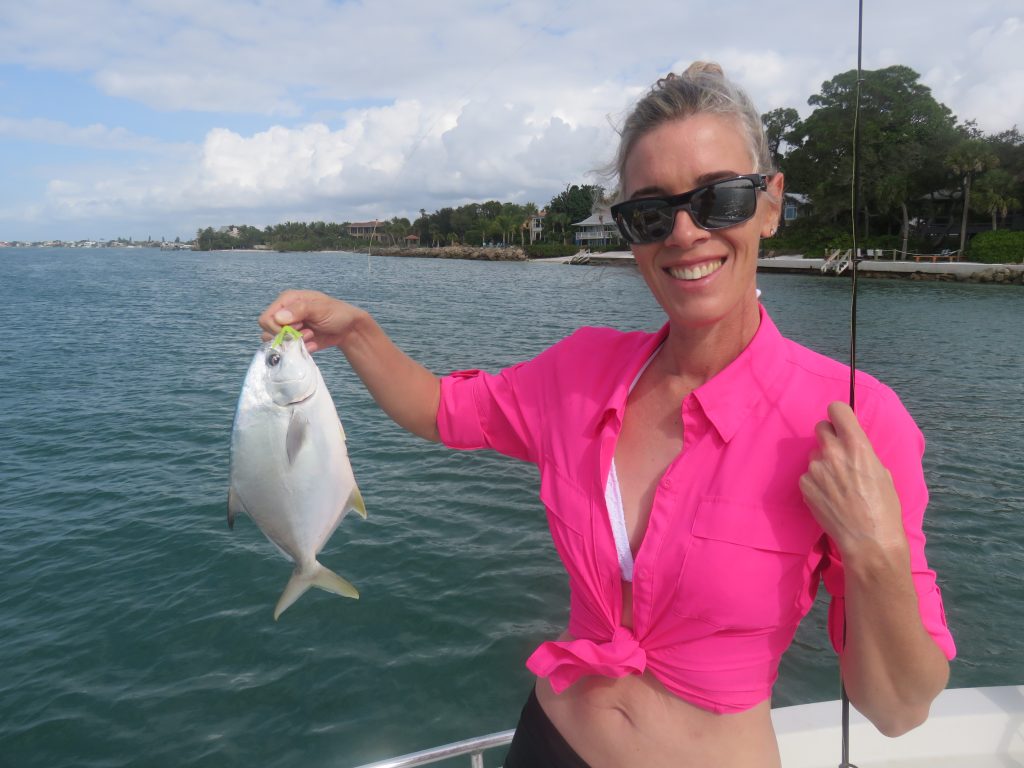 Anglers find pompano in several locations. These are the surf, inlets and passes, and on the flats. The vast majority of pompano are caught by anglers fishing in these spots.
Anglers fishing for pompano do not need any special rod and reel combinations. The same inshore tackle that works fine for other species of a similar size work fine when targeting pompano as well. I prefer a 7 foot medium or medium light rod with a fast action. The limber tip is important when fishing with smaller jigs. I pair this up with a 2500 series reel spooled up with 10 pound monofilament or braided line. I usually add a 24 inch piece of 25 pound fluorocarbon leader, mostly due to the availability of other species such as bluefish, mackerel, and ladyfish.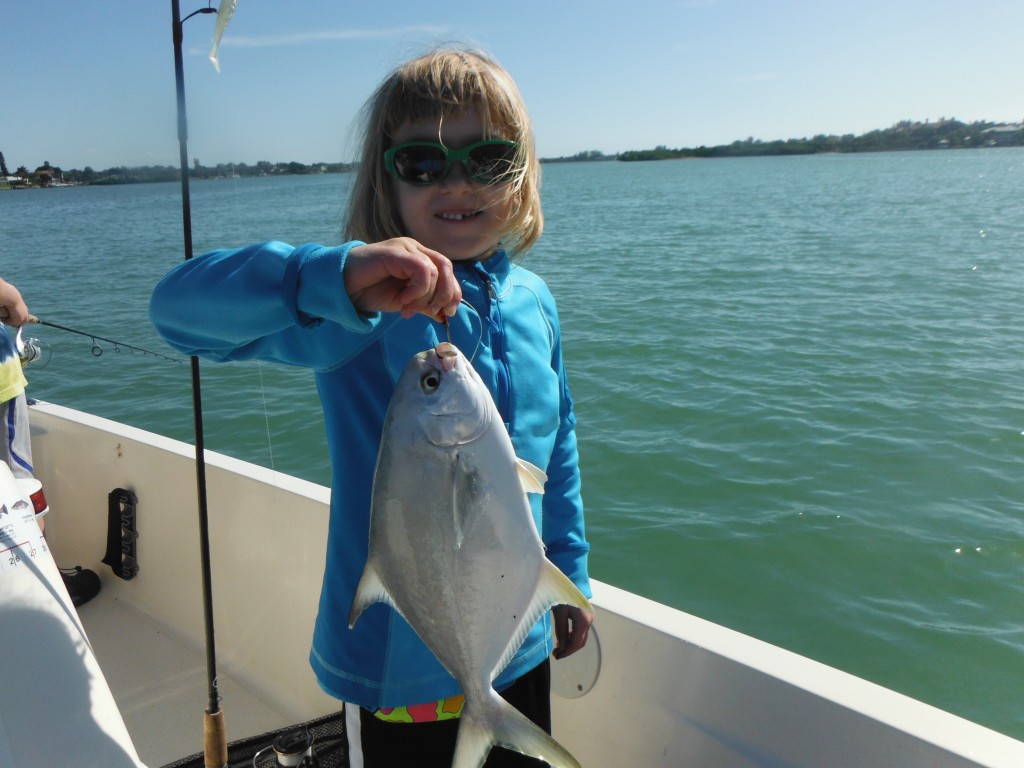 Best pompano fishing lures and baits
Pompano can be caught by anglers using both live and natural bait as well as on artificial lures. Live shrimp are an excellent bait and are readily available. Mole crabs, also known as sand fleas, are the preferred bait of surf casters. The top artificial lure by far is a jig. Several types of jigs are productive.
Best baits for pompano fishing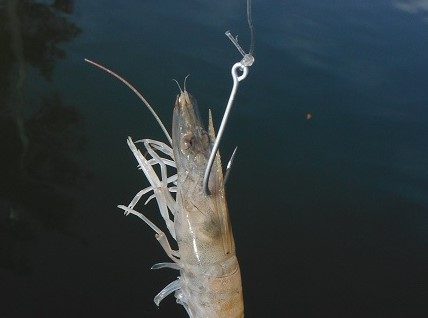 The number one live bait for anglers fishing for pompano is shrimp. The primary reason is the availability of them. Live shrimp are available at every coastal bait and tackle shop where pompano are found. Shrimp work fine fresh dead as well as frozen, especially in the surf.
Sand fleas (mole crabs) are a bit of a specialty bait. Some shops sell them live or frozen, but most anglers catch their own. Sand fleas are caught in the surf line using a special rake. They are a bit fragile and care needs to be used when hooking them, but they are extremely effective.
Best artificial lure for pompano fishing
Jigs are by far the most effective pompano fishing lures. In fact, I catch many more pompano using jigs than I do with shrimp. A jig bouncing along the bottom kicks up little puffs of sand. This realistically mimics a fleeing crab or shrimp.
There are several types of effective pompano fishing jigs. Most are modest in size as a pompano has a small mouth. Compact jigs sink quickly and are the right size. Banana jigs are odd looking but have an erratic action that pompano prefer. Small round head jigs work as well. On the shallower flats, a jig and grub will catch plenty of pompano.
Surf fishing for pompano
Surf fishing is a very productive technique that anglers used to catch pompano. Beaches from Texas to the mid Atlantic will all see runs of pompano. This is an excellent opportunity for anglers without a boat experience some great catching and some terrific eating!
While anglers surf fishing for pompano can catch a few using jigs, the vast majority of fish landed are done so by anglers using natural bait. Often times, anglers need to make long casts over the breakers in order to get the bait out where the pompano are swimming. It just would not be practical to do this with a jig.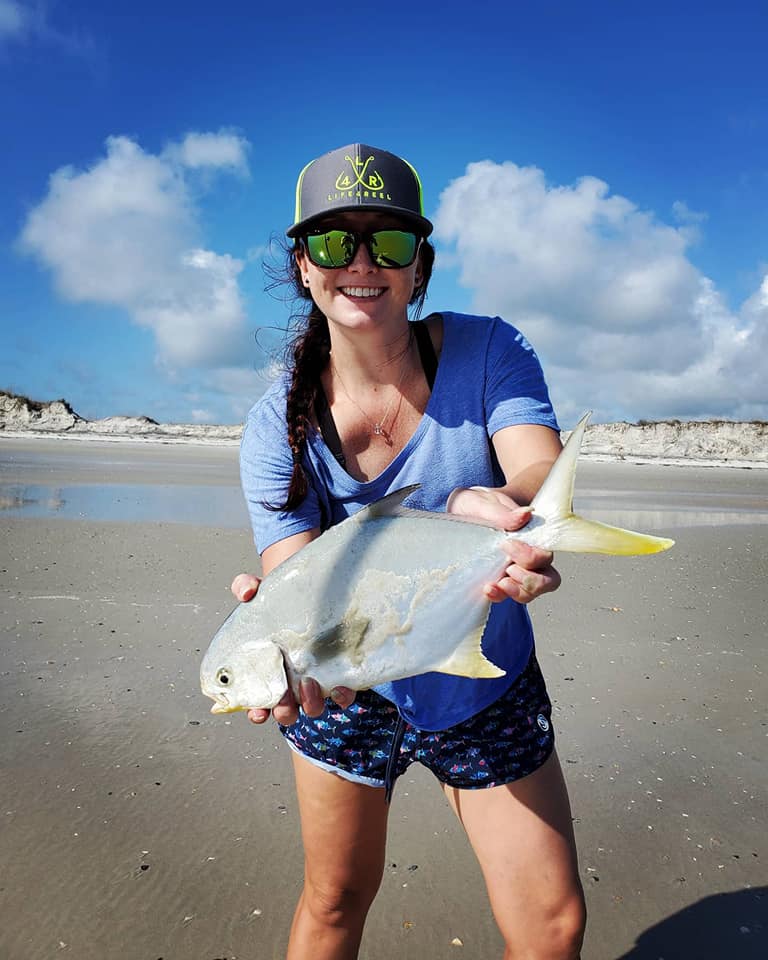 Traditional surf fishing tackle works well in this application. Depending on the size of the surf, rods from 10 feet long to 15 feet long with matching high-capacity spinning reels are the best choice. A two hook high low rig is standard along with a 2 ounce to 5 ounce pyramid sinker. Small floats can be added to the hook to keep them up off the bottom and add some color. Plenty of whiting will be caught doing this as well.
Top baits for anglers surf fishing for pompano include live and frozen shrimp, live and frozen sand fleas, and prepared commercial baits such as FishBites. These commercial baits are becoming more and more popular, mainly due to the convenience factor. There is no smell or mass in the baits can sit in the tackle box ready to go at a moments notice. Small shrimp or pieces of a larger shrimp as well as a sand flea are standard natural Pompano surf fishing baits.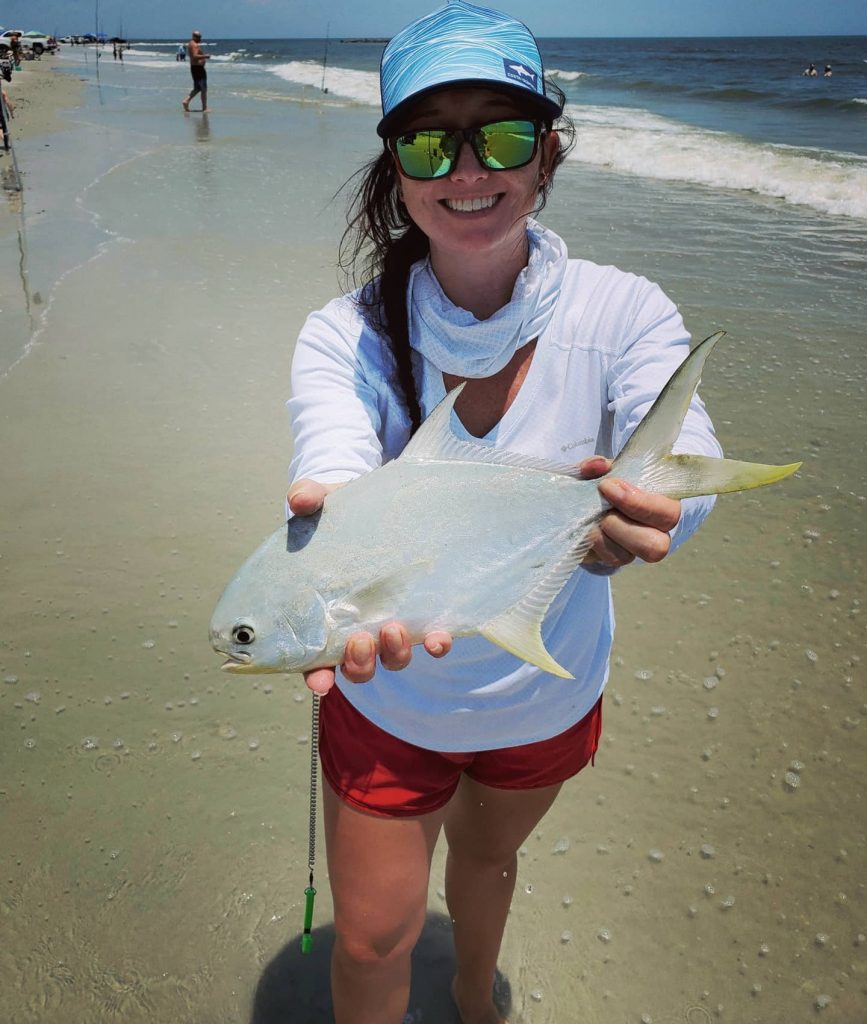 There are times when anglers can use jigs when surf fishing for pompano. This in particular happens on the Gulf Coast of Florida where wave action is often low. Pompano will move into the first trough, often times within 30 feet of shore. Anglers can use a light spinning outfit and work a jig in this area effectively.
Pompano fishing in passes and inlets
If I had to pick one spot to specifically target pompano, without a doubt it would be a pass or inlet. "Pass" is just another term for an inlet that is used on the Gulf Coast. These small bodies of water experience a significant current flow, bringing forage to pompano and other species. There also natural migration routes that pompano must use when going from open water to the in land bays.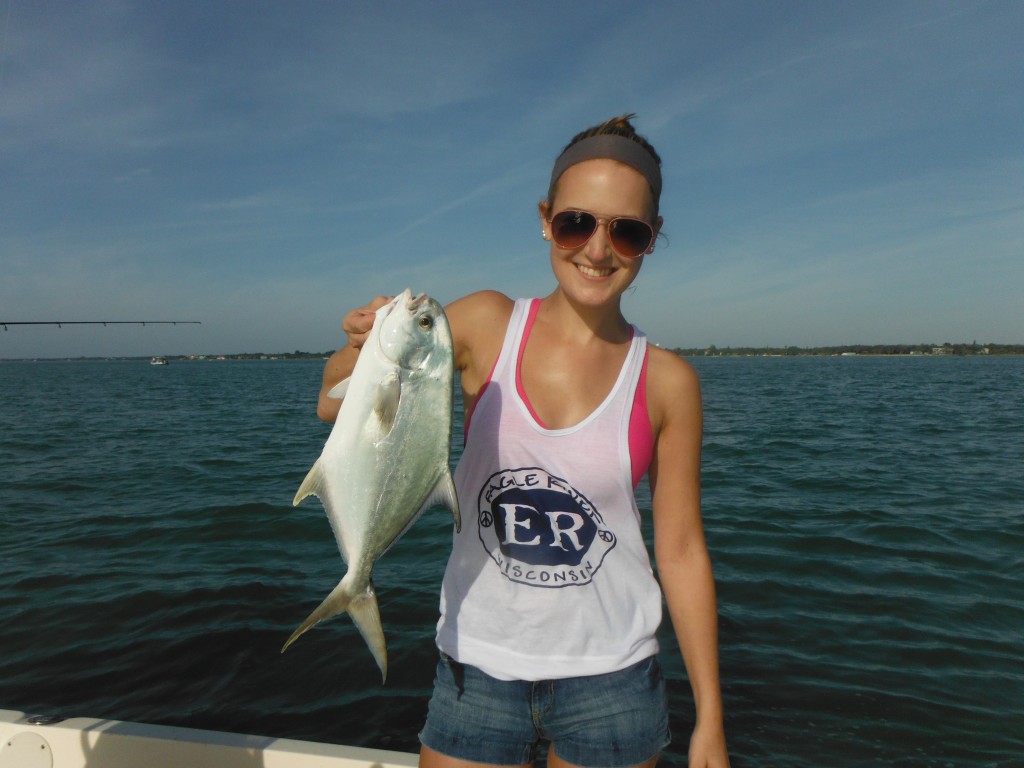 The technique that I use most often when pompano fishing in passes and inlets is vertical jigging. This is a very efficient angling method, as the jig remains in the strike zone the entire time. Small, compact jigs are best as they sink quickly in the strong current and will stay near the bottom where fish are feeding. Bright colors such as yellow and chartreuse seem to work best. I will also at times tip the jig with a small piece of shrimp, especially when the water has some color to it.
This is a very easy technique to master. The boat is placed up current of the area to be drifted in the jigs are lowered to the bottom. As the boat drifts along, the lures are snapped up off the bottom in 1 foot increments using a sharp twitch of the rod tip. The jig is then allowed to fall to the bottom, kicking up a little bit of sand. This is an extremely realistic presentation that mimics shrimp and crabs.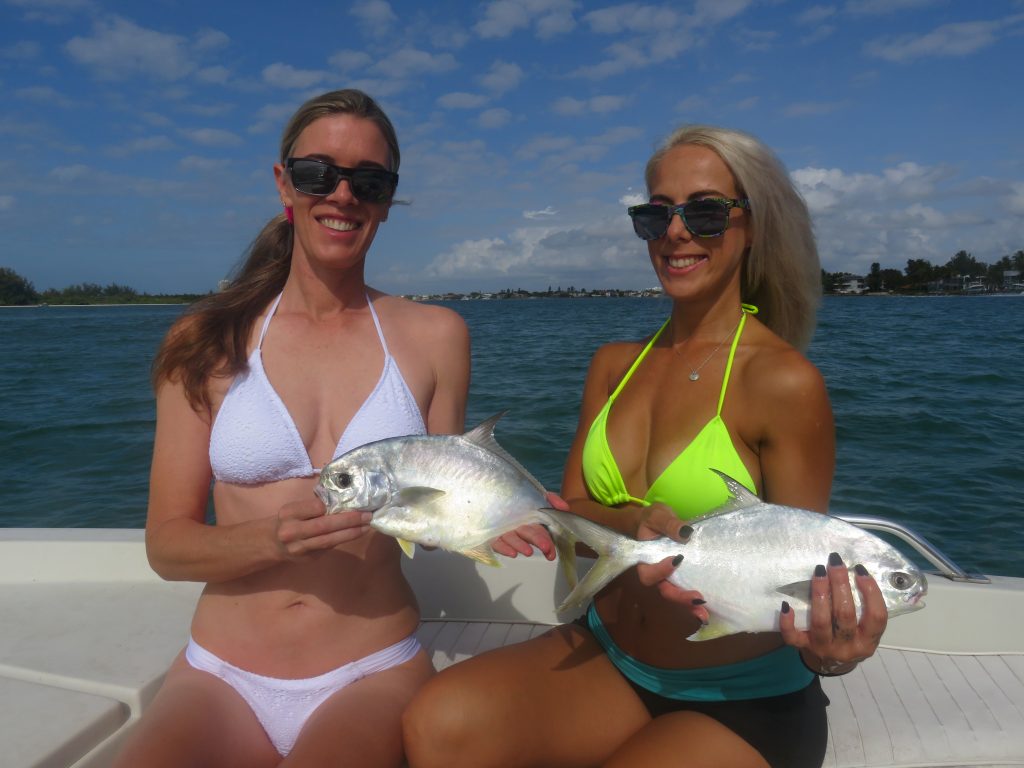 Pompano fishing on the flats
Pompano will also be caught cruising the bars and flats in the inshore bays. Fish will move through the passes and inlets and scatter out in these areas and water depth from 2 feet deep to 10 feet deep in search of prey. In clear water, they can often be seen on the bars. Pompano also have an odd habit of skipping on the surface like a stone when frightened by the boat. This can certainly help anglers locate fish.
The technique I use most often in this situation is to cast jigs out ahead of a drifting boat. If pompano are plentiful, I will use the banana or pompano jigs. However, if other species are also around in pompano are an incidental catch, I will use a 1/4 ounce jig head with a 3 inch to 4 inch soft plastic grub body. This lure will catch speckled trout, bluefish, Spanish mackerel, ladyfish, jacks, and other species as well, taking it a better choice for anglers just looking for a bent rod.
The same jerk and fall technique used in the inlets works best when drifting the flats as well. Again, pompano will be feeding right on or near the bottom in the jigs should get down there in order to be presented in the proper place in the water column. A lure running in the top half of the water column will usually not find a pompano. If fish are located, the best approach is to re-drift that specific area until the bite slows.
Pompano are fantastic to eat
Pompano are my favorite fish to ear. While I mostly practice catch and release, I see no harm in clients or anglers keeping a pompano or two to eat. They do not really freeze well, so no need to keep more than a meal. Pompano are naturally oily and are best prepared using a method that dries them out a bit. Broiling is a perfect way to prepare pompano! They are also very good baked or grilled. Pan sauteing is a decent option, but deep frying is not.  Go light on the seasonings and marinades as pompano has a wonderful natural flavor.

In conclusion, this article on how to catch pompano will help anglers catch more of these hard fighting and delicious inshore saltwater game fish species!