Bikini Fishing in Saltwater- Beat the Summer Heat!
This is a fun post with a lot of cute pictures of women bikini fishing. In the warmer weather, ladies, especially younger ones, often prefer to fish in a bikini. This allows them to stay cool while getting a tan. Many are also proud of their bodies and do not mind showing them off. Mail anglers usually have no complaints!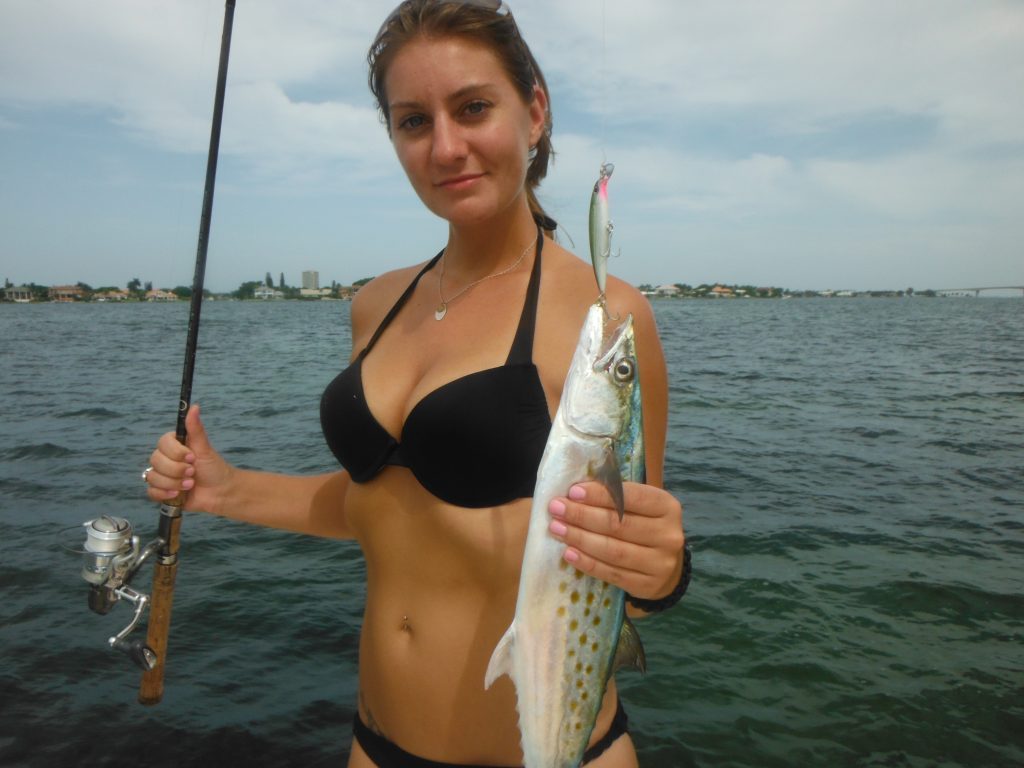 A woman fishing in a bikini is a common sight in Florida. In the warmer months, women will often wear a bikini under a T-shirt and shorts, and then shed that outer gear in order to get a little sun. It also makes it easy to jump overboard and cool off. It is certainly important not to get too much sun, especially midday when the sun is high.
Bikini fishing
A female angler fishing in a bikini can catch fish just about anywhere, as long as it is warm enough to wear that attire. All not complete, the following is a list of species along with pictures of that fish being caught by an angler fishing in a bikini. A lot of emphasis will be on Florida species, but others will be included as well.

Fishing for spotted sea trout in a bikini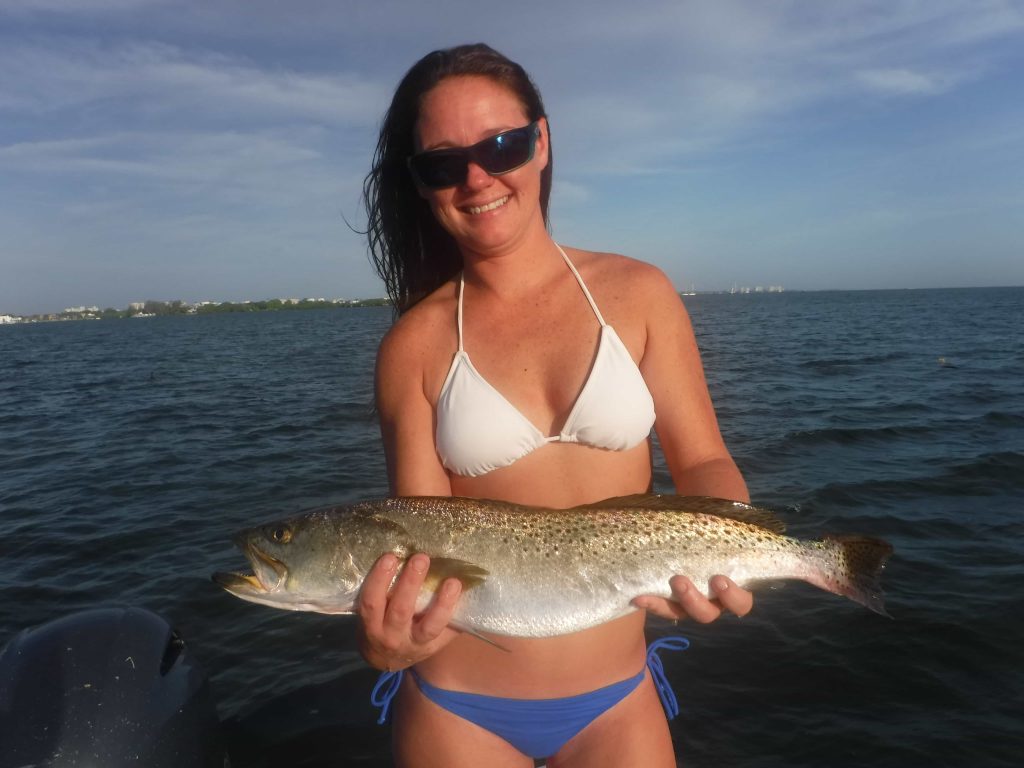 Spotted sea trout, also known as speckled trout, are a very popular inshore saltwater species. They are found along the United States coastline from Texas up to Maryland or so. They are mostly caught in the backwater bays, often in fairly shallow water. In some locations, they are caught in the inlets and passes as well.
Spotted sea trout can be caught by anglers using a wide variety of artificial lures and live baits. A live shrimp under a popping cork has accounted for many spotted sea trout over the years. It is a simple and effective technique. Other baits can be used as well, including croakers, grunts, pin fish, sardines, and other bait fish.
The top artificial lure for spotted sea trout fishing is without a doubt the jig and grub combo. This is a very effective lure for just about every inshore saltwater species, and spotted sea trout are no exception. It works very well when fished over submerged grass beds in water between 2 feet deep and 10 feet deep. Plenty of ladies bikini fishing catch them using jigs.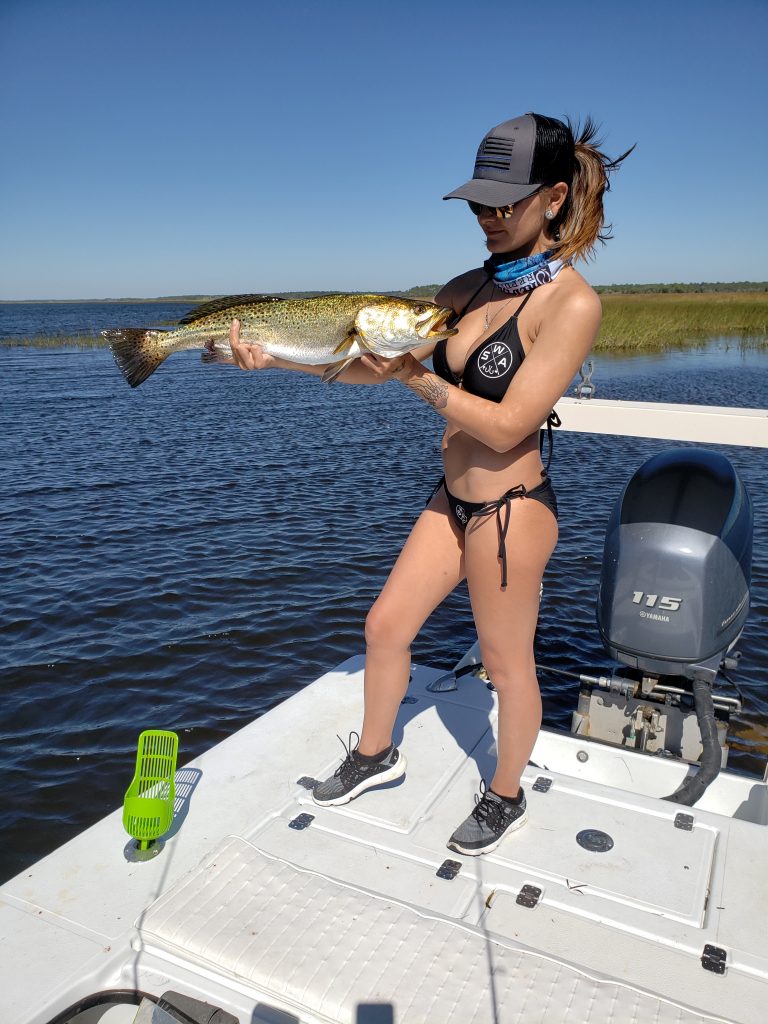 Snook fishing in a Bikini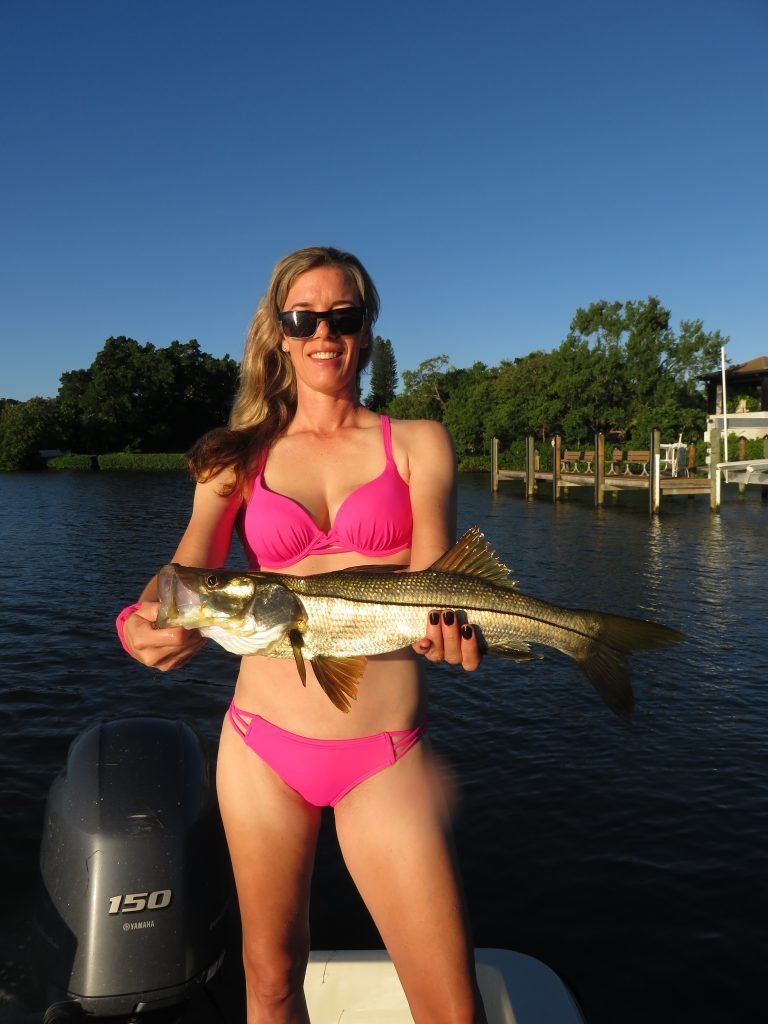 Snook are the premier light tackle inshore game fish in Florida. They are also found in the most southern parts of Texas as well as warmer climates of the Caribbean. Snook is a game fish that has it all; they grow large, are beautiful, put up an incredible fight, and are fantastic eating!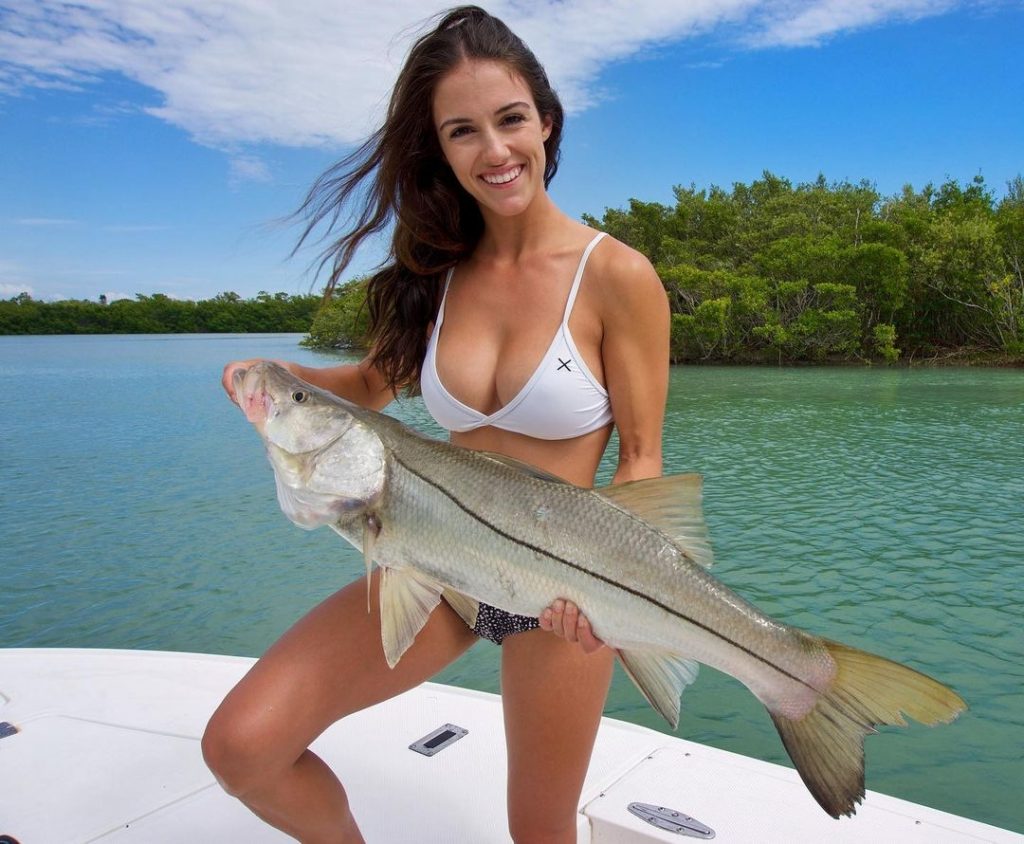 Snook can be caught by anglers using a variety of tactics. Live bait chumming is incredibly effective in the warmer months. Anglers catch hundreds and hundreds of small silvery baitfish such as sardines then use them to chum the snook into range. Live bait fish including mullet, pin fish, grunts, and even small ladyfish can be used as well. A large live shrimp is a top-notch snook bait in winter.
Artificial lures catch plenty of snook as well. In fact, the best snook fishing lures are generally converted largemouth bass lures. Plugs, jigs, and soft plastic lures are the top choices. Spoons will also catch them as well. Anglers fly fishing for snook catch them with white bait fish imitations.
Fishing in a Bikini for bluefish
Bluefish are a species that anglers fishing in a bikini can catch in the more northern states in the summer time. These aggressive hard fighting game fish can be caught from Texas all the way up to Canada. The Northeast states such as Massachusetts, New York, and New Jersey are known to have some of the largest specimens.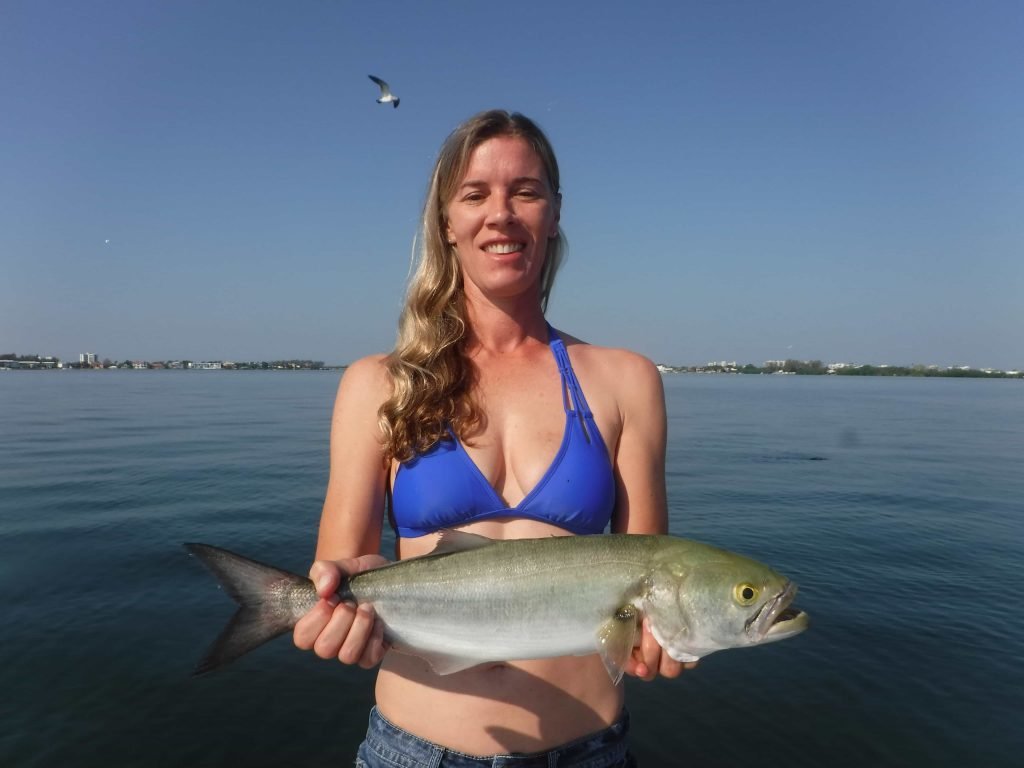 Bluefish can be caught by anglers using cut bait and artificial lures. Cut bait is the best choice for anglers surf fishing for bluefish in most cases as well as bottom fishing. However, many anglers choose to target bluefish using lures and take advantage of their aggressive nature. Trolling is very effective. Spoons and jigs are the top artificial lures for bluefish.
Spanish mackerel
Spanish mackerel are another migratory species that can be encountered all over the world in areas where the water temperature does not fall to low. They are plentiful along the entire Gulf Coast and migrate as far north as New York. They are a beautiful fish that is excellent to eat one prepared fresh.
Most Spanish mackerel are caught by anglers using artificial lures. Mackerel are very aggressive and respond well to them. Lures also allow anglers to cover a lot of water in search of fish. This is particularly true when trolling. The top trolling lure by far is a silver spoon, the size of which can be used to imitate the locally available forage.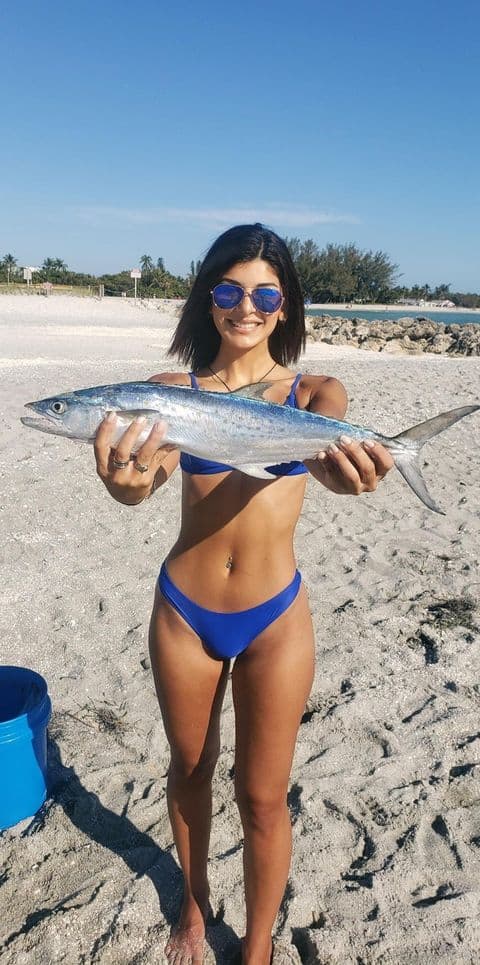 Spanish mackerel will be caught by anglers using live bait as well. A free lined live shrimp or bait fish has produced many Spanish mackerel for anglers in the southern states. Often times, the mackerel will take a bait meant for other species such as spotted sea trout. Anglers surf fishing for Spanish mackerel catch them using lures and cut bait. Piers and jetties are also prime locations.
Fishing for redfish (red drum) in a Bikini
Redfish, also known as red drum, are another extremely popular inshore saltwater species. They are mostly found in shallow waters and in land coastal bays. They will also be encountered in passes and inlets and occasionally in big groups offshore. The best action for redfish is along the upper Gulf Coast, with Venice Louisiana being a renowned spot.
Anglers catch redfish using both live bait and artificial lures. Redfish are opportunistic feeders and will readily take a shrimp, crab, or baitfish. Anglers surf fishing often use chunks of cut bait as it stays on the hook longer. All along the Gulf Coast, a large live shrimp fished under a noisy float is a top technique.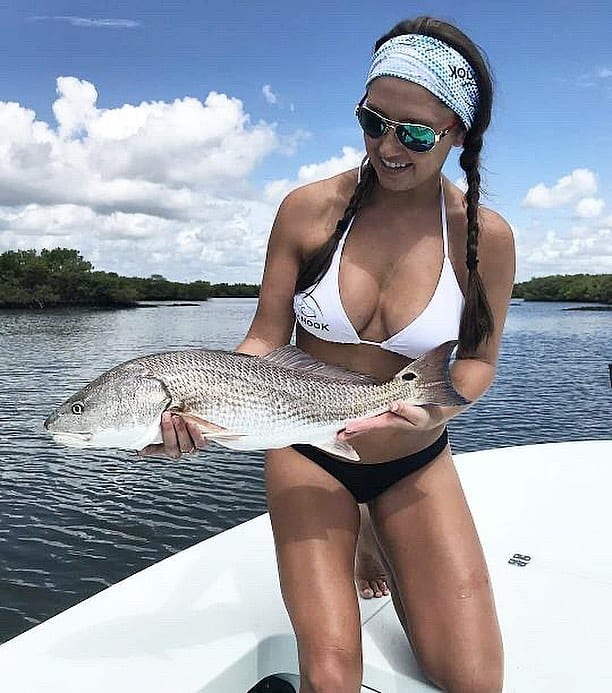 Redfish can also be caught on artificial lures. The top two baits are a soft plastic lure on a jig head or swim bait hook and a weedless gold spoon. Both of these lures are effective in the shallow grasses where redfish are often located. Both are also good search baits which will help anglers locate fish
Striped bass
Striped bass are arguably the most popular saltwater game fish in the Northeast and New England. They grow quite large, reaching weights of over 100 pounds, put up a terrific fight, and are prized as a food fish. They range as far south as the Carolinas. Striped bass have also been very successfully stocked in many larger lakes.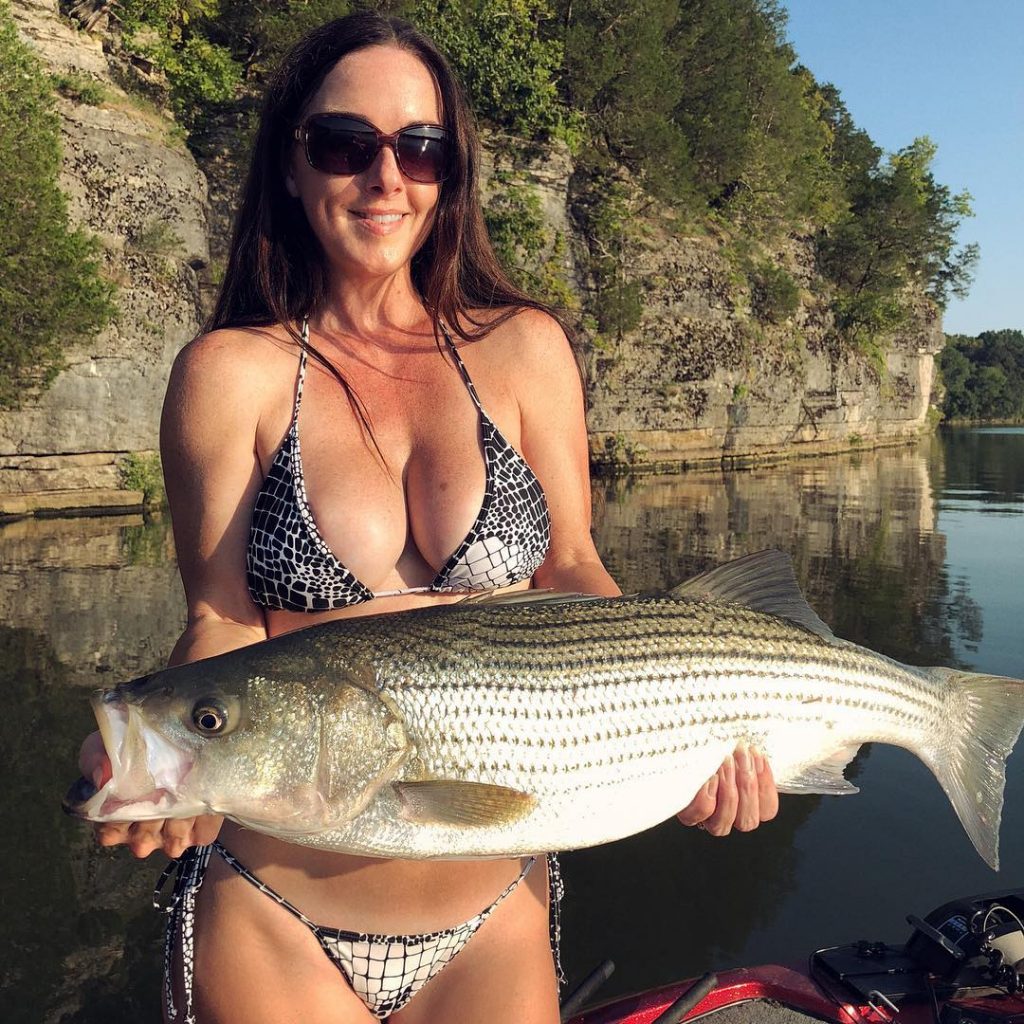 Many striped bass are caught by anglers free lining a large live bait. This works well and both freshwater and saltwater applications. Anglers can also very slowly troll the same live baits. Bunker and herring are most often used. Chunks of fresh cut bait are also effective, and are the choice of anglers surf fishing.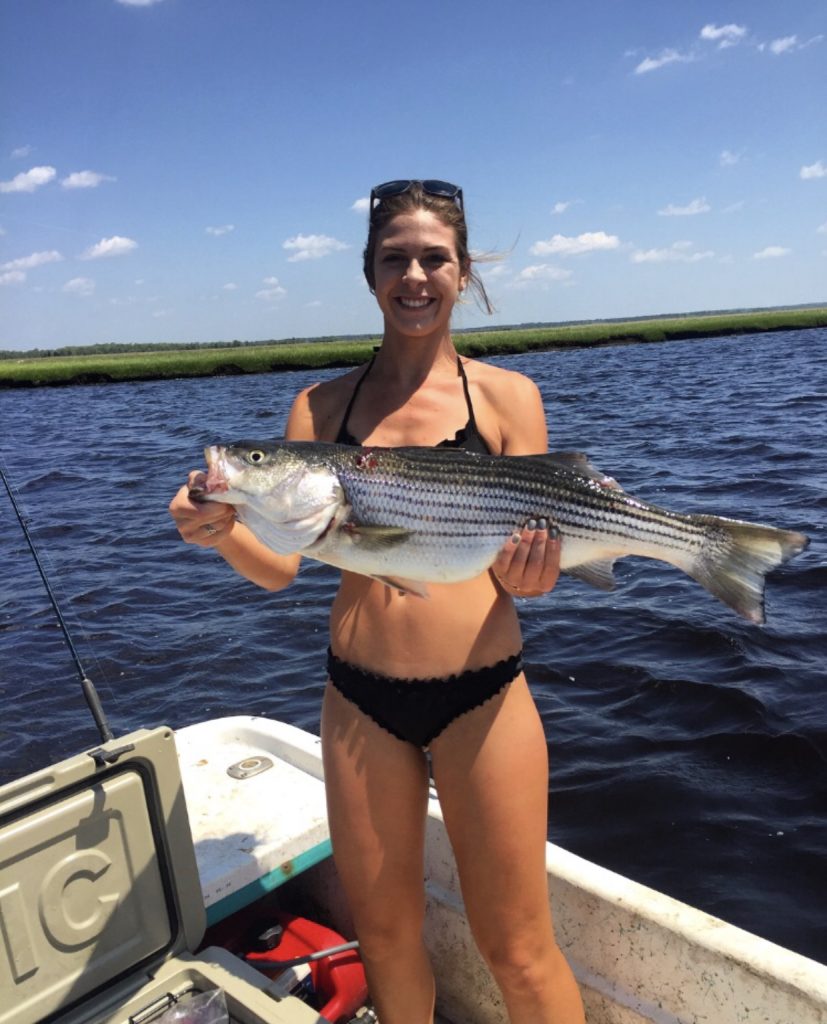 Trolling is another very effective striped bass fishing technique. As with other species, trolling allows anglers to cover a lot of water in search of fish while presenting several lures at multiple depths. It is just an efficient way to fish. Once a certain depth or bait proves to be particularly effective that day, anglers can dial in the pattern. Plugs, spoons, and other lures can be cast as well particularly fishing from shore or casting to busting fish from a boat.
Flounder fishing while wearing a Bikini
Flounder, (and fluke), are extremely popular inshore saltwater species. While they put up a decent fight, they are more highly desired for their incredible fillets. Flounder are among the finest tasting fish that swims. The southern Gulf flounder is found in the warmer waters while the fluke is more prominent in North waters. Both are very similar and looks and habits.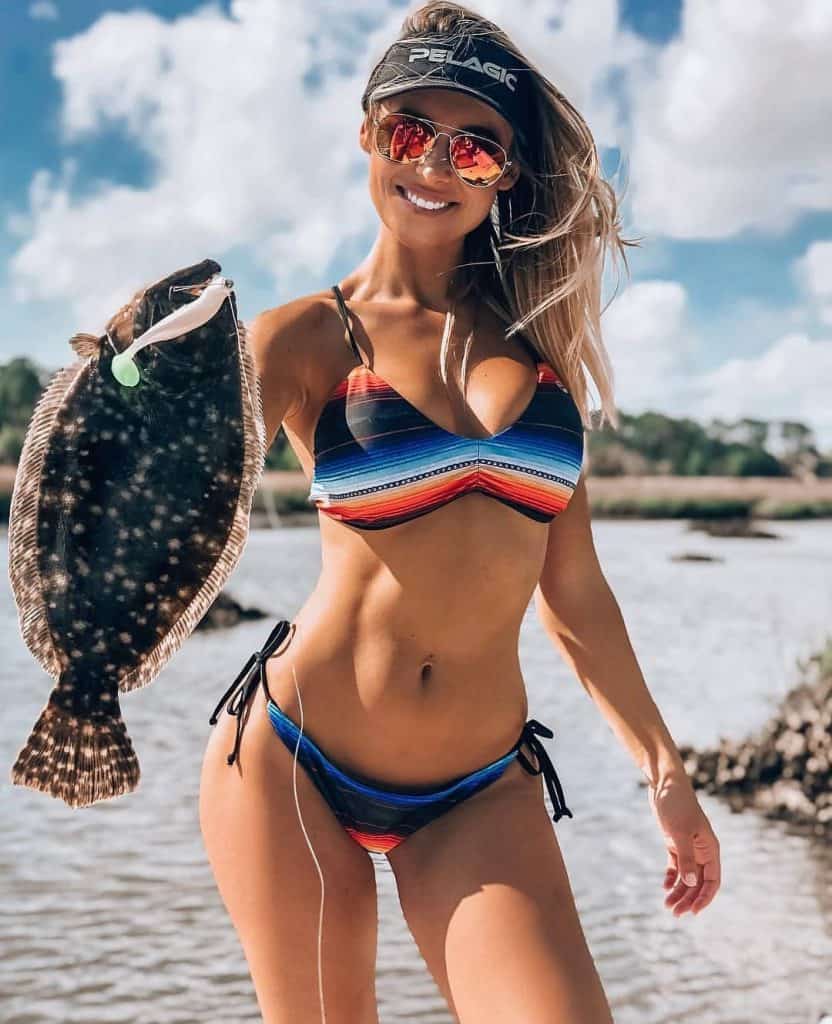 Flounder lie on the bottom often times half buried in the sand or mud. They lie in wait usually facing into the current for unsuspecting forage to come by. Flounder will quickly ambush unsuspecting prey. Top of baits are strips of cut squid and flounder, live or frozen minnows, and white buck tail jigs tipped with a strip of squid.
King mackerel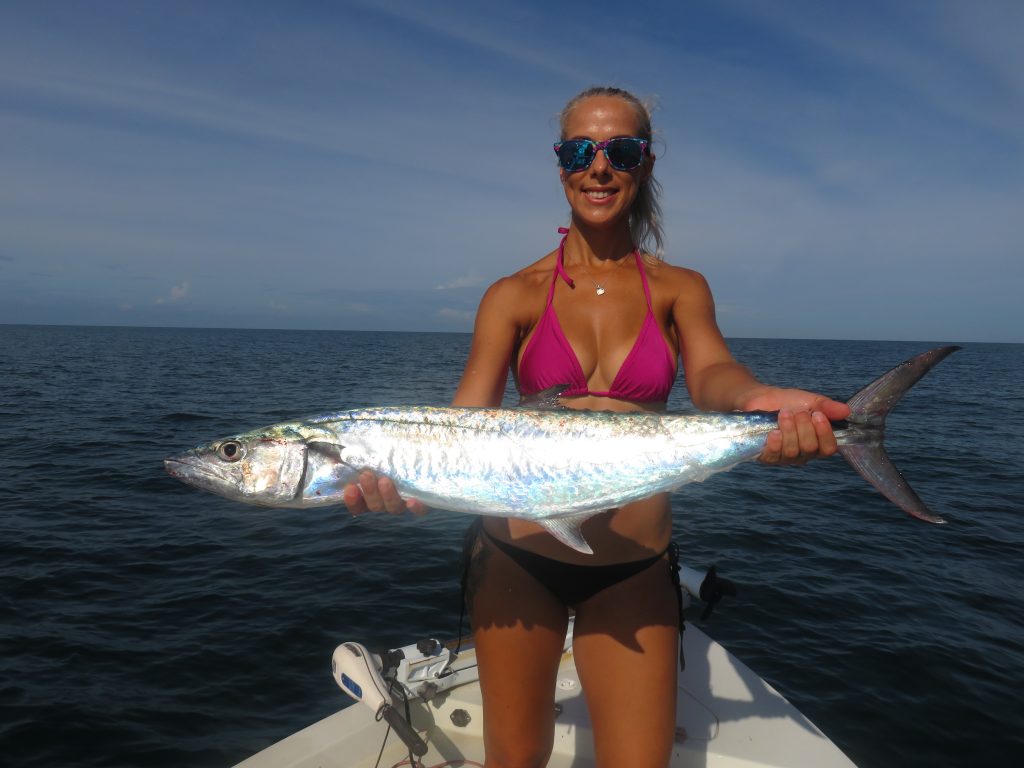 King mackerel, like their smaller cousins the Spanish mackerel, have a very wide range. They are found throughout the world in temperate waters. They do grow quite large, reaching weights approaching 100 pounds. They are plentiful throughout the Gulf of Mexico and range up the East Coast as far as New England.
The vast majority of king mackerel caught by anglers are done so trolling. Lures such as large Silver spoons and plugs work well, especially for anglers seeking numbers of fish. When a trophy king mackerel is desired, the top technique is to very slowly troll with large live baits such as blue runners, cigar minnows, bunker, and whatever forage is available.
False albacore
false albacore are another species that are caught in Florida by Lady anglers bikini fishing. They are a pelagic species that moves through in the spring and the fall. Anglers in the Northeast off of New England catch them in the summer months. The smaller members of the tuna family are terrific game fish on light tackle and on fly tackle. Often times the action is visual as false albacore are seen feeding on the surface.
Jack crevalle
Jack crevalle, also called "jacks", are a very formidable inshore saltwater game fish species. As a are prevalent in Florida, Lady anglers bikini fishing often encounter them. Jacks are seen feeding on the surface ferociously at times and will usually take just about any lure cast into the vicinity. They are caught in the inshore waters as well is offshore. Inshore jack crevalle average 5 to 10 pounds but can be encountered as large as 50 pounds. They are plentiful throughout tropical and temperate waters all over the world.
Snapper
Snapper are caught by lady anglers fishing in a Bikini in warmer waters all over the world. Some species are numerous inshore, mangrove snapper in particular. More often, they are landed by those fishing structure in deeper water.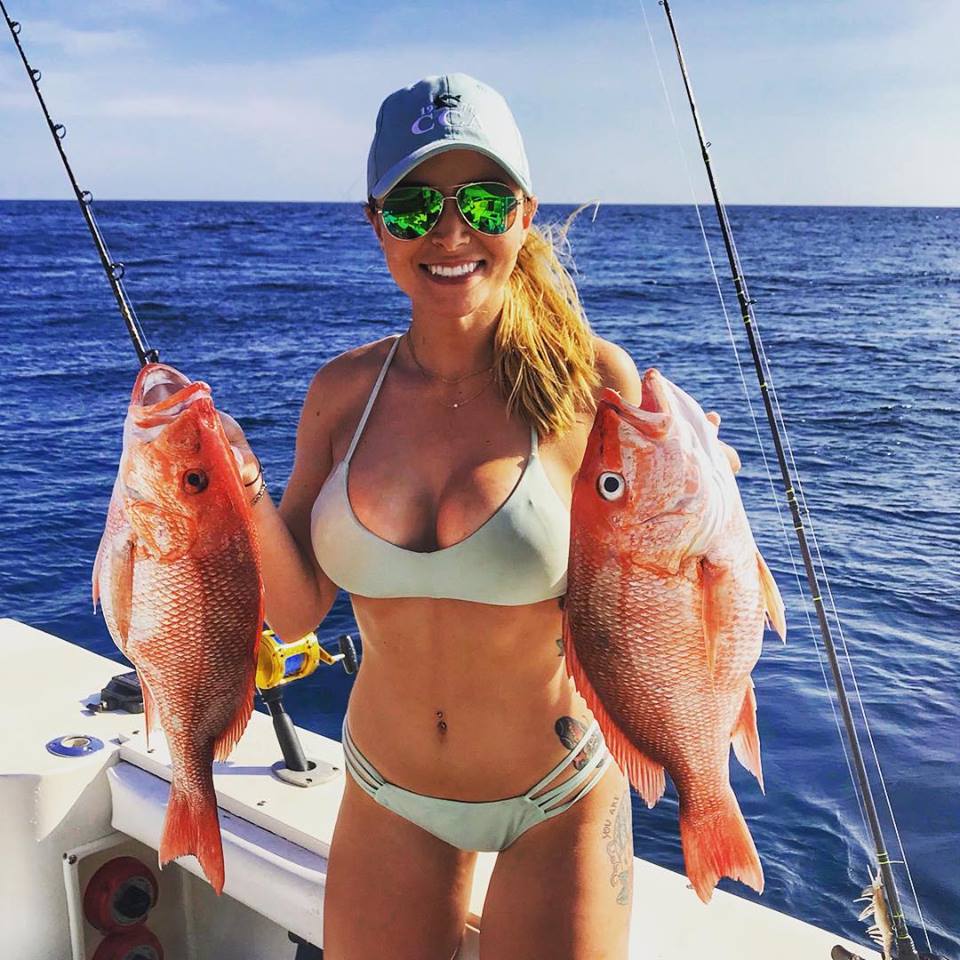 Red snapper are among the largest and most popular of the snappers. They are plentiful in the Gulf. Yellowtail snapper are a staple of charter boats in the Keys. Mutton snapper are highly desited. Lane snapper are small but tasty. More species exist to please anglers both on the end of the line and on the dinner plate.

Ladyfish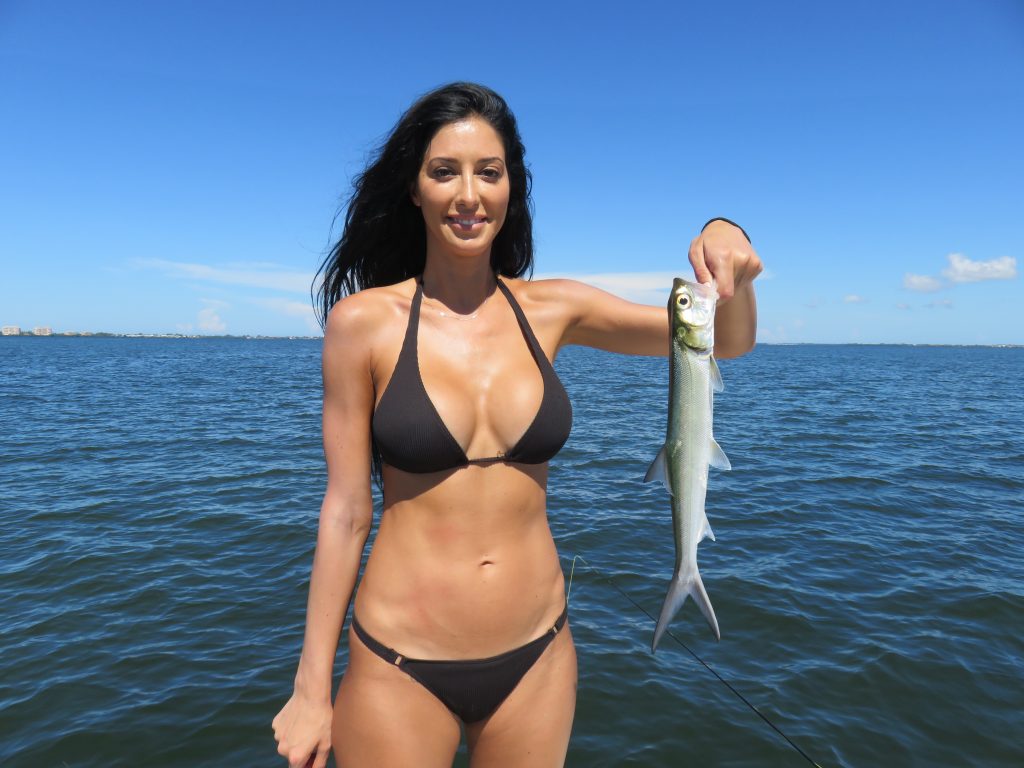 Ladyfish are thought of by some anglers as an undesirable species. This is mainly because they are not considered good to eat. However, by whatever metric can be used to define a game fish, ladyfish live up to that. They are beautiful, fight hard, leap high out of the water, and can be caught by anglers using live bait, artificial lures, and flies. What more can an angler ask for?
Pompano
Pompano do not grow very large, but are highly prized by anglers. They put up a great fight and are fantastic eating! The smaller cousins of the permit are a favorite of angler surf fishing from Florida up to the Outer Banks in North Carolina. They are also caught by anglers inshore fishing in passes, inlets, and on the flats.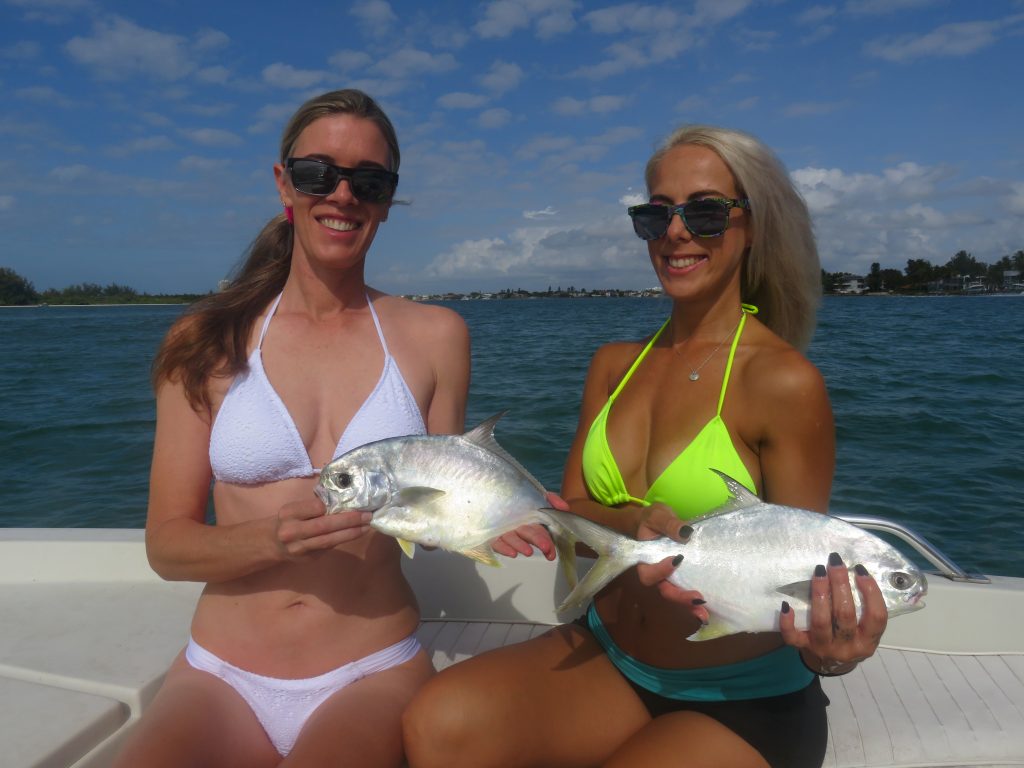 Pompano have a small mouth therefore anglers targeting them should scale down their offerings. Live bait such as shrimp, sand fleas, and fiddler crabs will catch them. The top artificial lure by far is a jig as it realistically imitates the crustaceans that Pompano feed on.
Sheepshead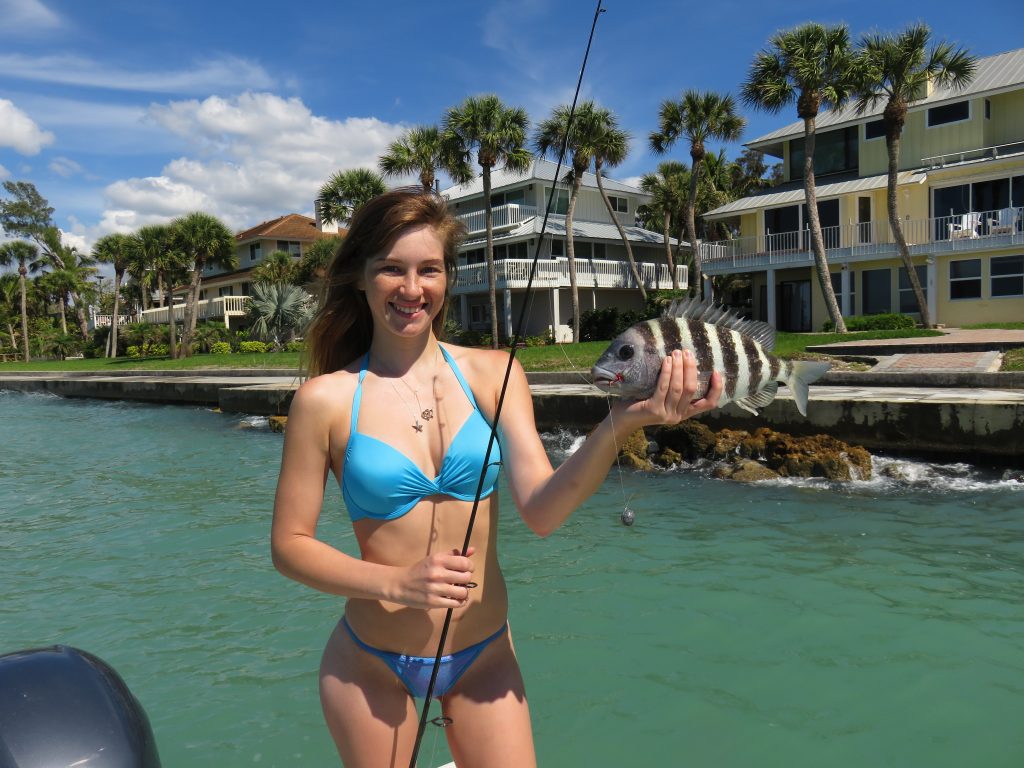 Sheepshead are a very popular bottom fish that are found all along the Gulf Coast and up the East Coast. They used to be numerous in New York, even having a bait named after them, Sheepshead Bay. However, they don't seem to migrate up that far as often anymore. Sheepshead are a member of the Porgy family and are almost always caught by anglers using natural bait such as crabs or shrimp near some type of structure. They are notorious bait stealers and are very good to eat.
Black sea bass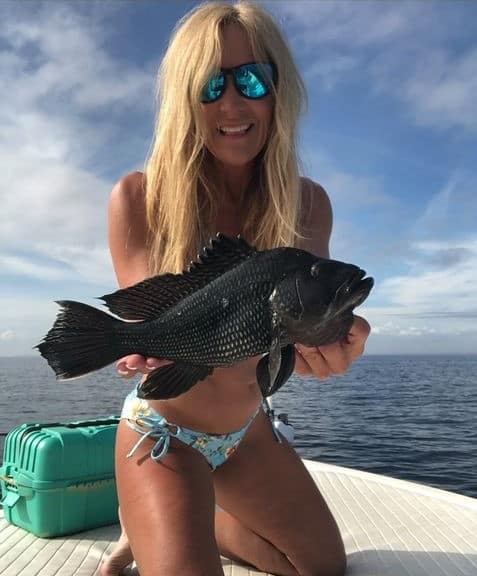 Black sea bass are a very popular bottom fish, especially in the Northeast off of New England. They are caught as far south as Florida, however both smaller in numbers in size. Seabass school up in large numbers, normally over some type of structure such as a wreck or hard bottom. Most anglers catch them bottom fishing with cut bait or natural bait, though jigs will produce a few as well. They are a beautiful fish that fight hard and is among the finest eating fish that swims.
Wahoo
Wahoo are the largest member of the mackerel family. They are generally found in warmer climates such as Florida. They are plentiful throughout the Caribbean and in the Bahamas. Very few wahoo are caught by accident. Most are caught by anglers trolling very fast, up to 12 mph, with special lures. Wahoo are very fast and reach weights of over 100 pounds. They are incredibly gorgeous when first caught in are fantastic eating.
Mahi Mahi (dolphin)
Mahi mahi, also known as dolphin (not to be confused with the mammal), are a beautifully colored pelagic migratory species. These are unusual fish and that they grow to weights of over 40 pounds in just three or four years. They basically just swim, eat, and make babies. They are fantastic eating and are usually located in schools, often under floating weeds and other debris. Most anglers catch them by trolling as it allows them to cover a lot of water while searching for fish.
Grouper fishing in a Bikini
Grouper are a very popular species that are most often caught by anglers fishing offshore. However, some grouper can be caught quite shallow. While they will take lures, most are caught by bottom fishing with live or cut bait.
In conclusion, this article on Bikini fishing in Saltwater is a fun post that will help anglers identify and catch these species.