Top 6 Jack Crevalle Fishing Lures
This article will list my top 6 jack crevalle fishing lures. These are the lures that I have found to be very effective when fishing for these hard-fighting inshore saltwater species. Unlike many other articles online, I actually use these lures on my fishing charters. As a charter boat captain in Florida since 1991, I need lures that produce fish!
Anglers have a wide variety of lures to choose from as they peruse the tackle sections in stores or online. In fact, the whole process can be overwhelming! In this article, I will simplify the process and list six very effective lures that will catch not only jack crevalle, but just about every other saltwater species.
Jack crevalle are the barroom brawlers on inshore saltwater fishing! They use their broad sides to pull incredibly hard. Jack crevalle are found all over the world in tropical and subtropical waters. In the United States, jacks are caught all along the Gulf on Mexico and up the east coast to North Carolina.
Jack crevalle are often found in large schools. This results in the fish being quite competitive. They respond very well to artificial lures. The best jack crevalle fishing lures are erratic and fast moving. They must also have stout hardware. Freshwater lures will not hold up to the brute strength of a large jack crevalle.
Best rods and reels for jack crevalle fishing
I will add a bit about the best tackle before listing my top 6 jack crevalle fishing lures. The size of the tackle really depends on the fish being caught. I use a 7′ medium action rod with a 2500-3000 series reel. The jacks I catch weight on average five to seven pounds. Larger fish will require more stout tackle, especially when fishing near bridges and other structure.
Baitcasting tackle works great for jack crevalle fishing as well. These outfits have more power and a faster retrieve ratio. A 7 ½ foot rad with matching reel loaded up with 20 pound braided line works great. I also always use a shock leader when fishing for jack crevalle. 24" to 30" of 40 pound flourocarbon leader works well.
Top 6 jack crevalle fishing lures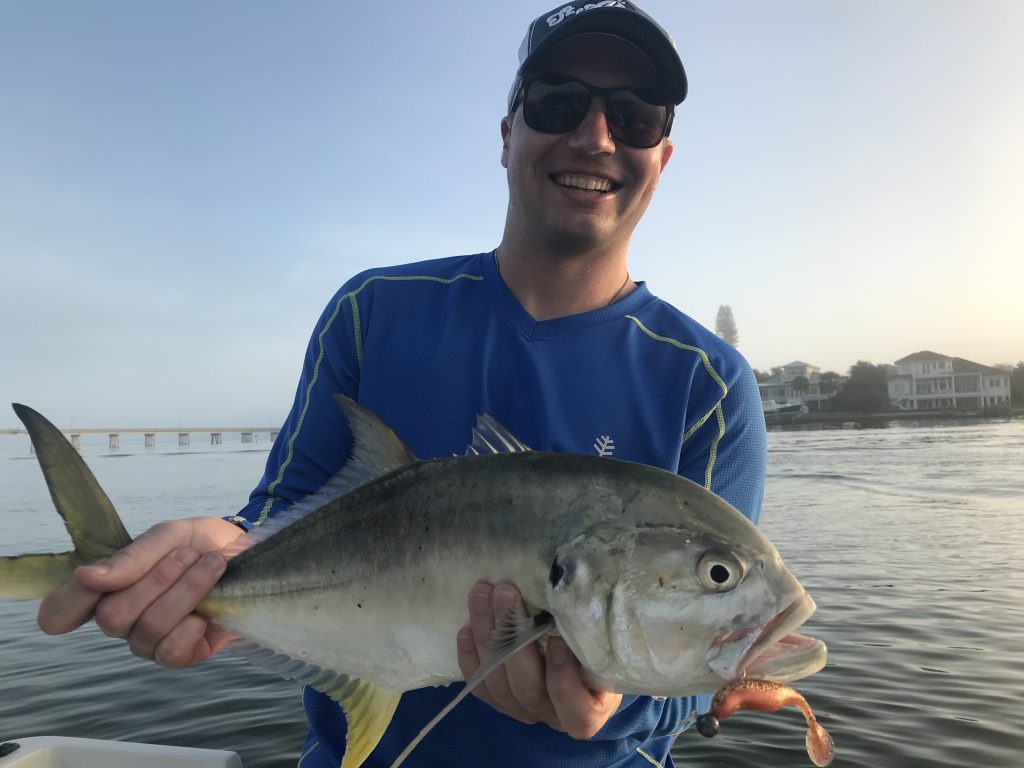 Now, on to my list on my top 6 jack crevalle fishing lures. These are proven baits which will fool jack crevalle wherever they are encountered. Most work well when both cast or trolled. All have saltwater hardware.
1)  Rapala X-Rap Extreme Action Slashbait
Number one on my list of top jack crevalle fishing lures is the Rapala X-Rap Extreme Action slashbait. I love fishing with plugs, especially jerkbaits. The X-Rap has a long slender body that puts out a lot of flash and vibration. It is a great lure for trolling in shallow water as well as being cast out. Make sure to purchase the saltwater version with stronger hooks and hardware!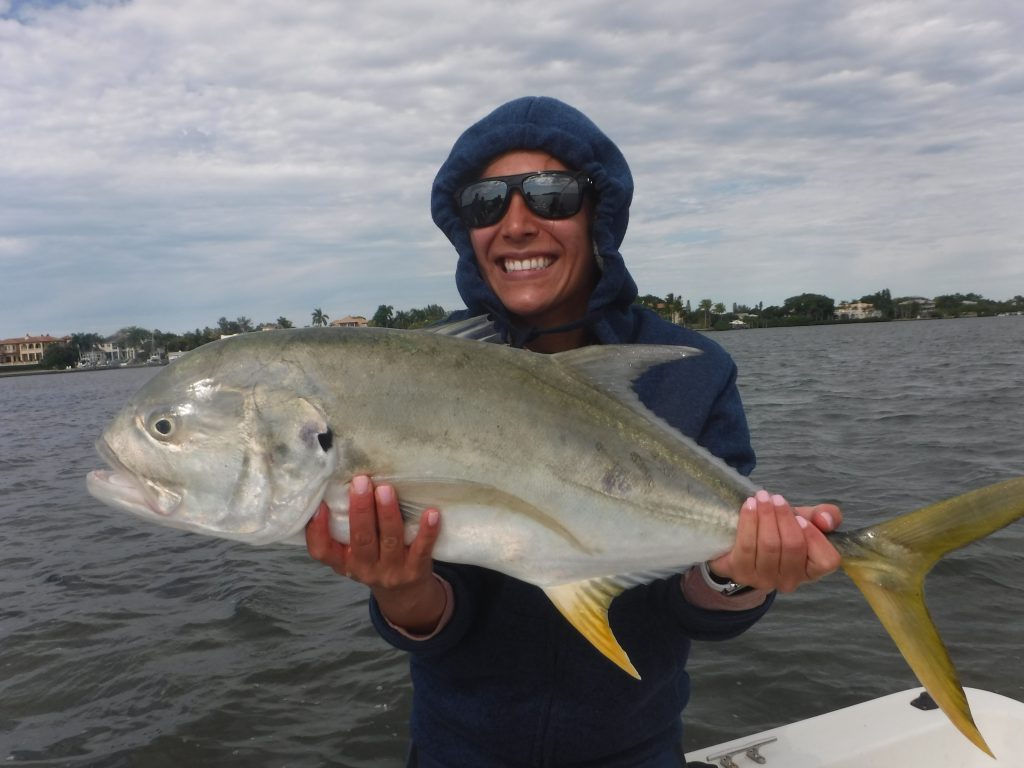 I use the 08 size a lot. Even though it is small, is mimics the locally available forage. I will bump up to the 10 size when the bait is a bit larger. The larger lure has better hooks, too. Pilchard, Ghost (white) and gold are my favorite colors. The lure covers a lot of water and is very productive when cast out and retrieved back in using and aggressive, erratic retrieve. Make sure to pause it, as this is often when the take occurs.
This is an incredibly effective trolling lure as well. Here in Florida where I fish, jacks move up into area creeks, rivers, and residential canals. They seldom are encountered feeding on the surface. Trolling is a great way to cover a lot of water and locate them. The 08 X-Rap will run in 30" or so of water.
2)  4″ Bass Assassin Sea Shad
Next on my list of top jack crevalle fishing lures is the 4" Bass Assassin Sea Shad. It is a soft plastic lures with a shad style tail. There are many quality baits that are similar and work well, I just prefer these lures. They are available in an incredible array of colors. I prefer chartreuse, new penny, and glow. Jigs are cost effective, productive, and the single hook makes handling and releasing fish easier.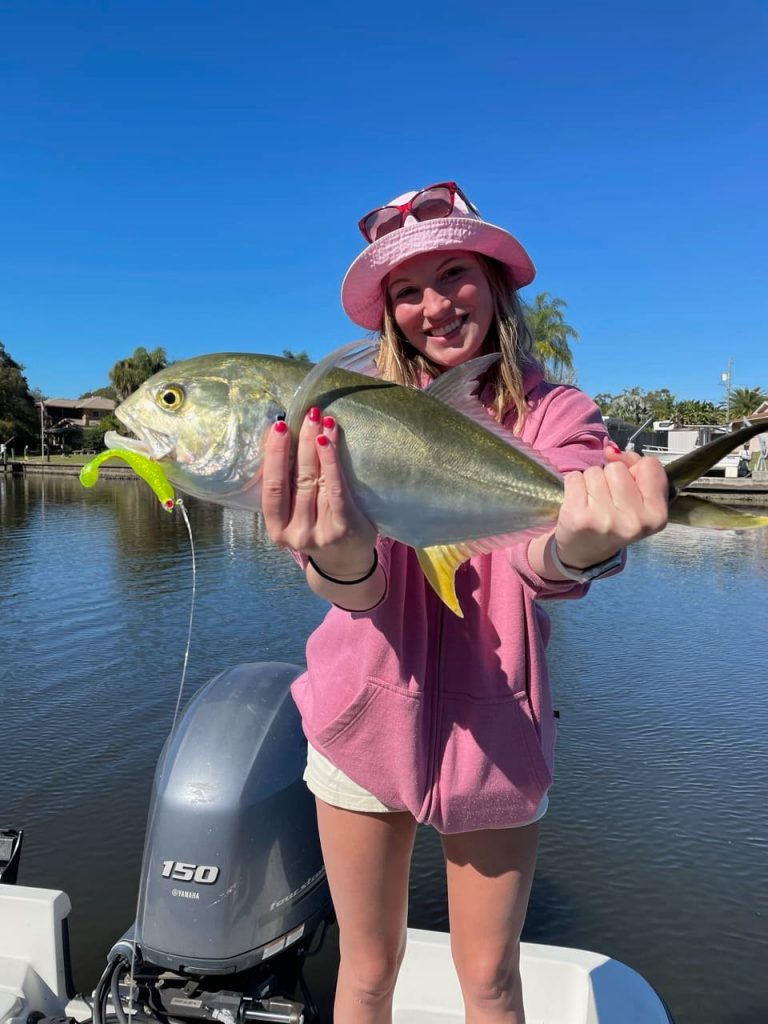 For the most part, I fish these lures on a stout jig head. The hook needs to be strong or it can straighten out. 1/8 ounce jig heads work well in shallow water while anglers may need to bump up heavier in deeper water or where strong currents are present. In most cases, ¼ ounce jig heads will cover the water column.
The lure can be reeled in steady or with an erratic "hop and fall" retrieve. Most fish hit a jig as it falls. This imitates a wounded or dying bait fish. When jacks are feeding aggressively, a fast steady retrieve will prodice. It is not great for trolling as it will roll and spin.
3)  Acme Kastmaster spoon
Spoons are excellent jack crevalle fishing lures! They cast a long way and put out a ton of flash and vibration. Spoons are a great choice when jacks are seen feeding on the surface. They are a favorite of surf anglers as well. Spoons can be cast or trolled. A swivel should always be used with a spoon to prevent line twist.
There are a bunch of quality spoons on the market. My personal favorite spoon is the Acme Kastmaster spoon. It has a slender design that has a terrific action. It also cuts very well when casting into the wind Silver is the only finish that an angler needs when saltwater fishing. The lure works best with a fast, erratic retrieve. One added feature is that the Kastmaster is available with a single hook, making fish handling easier and safer.
4)  5″ Gulp Jerk Shad – white
There are times when anglers need to slow down when fishing for jack crevalle. This can occur during post cold front conditions as well as when the water temperature goes down. My top jack crevalle fishing lure under these conditions is the Gulp 5" Jerk Shad. The combination of scent and action is a great combination. White is really the only color I use.
Much like other soft plastic baits, I fish this on a jig head. Swimbait hooks are effective as well, and they can be rigged weedless. The best presentation is to allow the lure to hit bottom them retrieve it back in using sharp hops while allowing to to fall back down. This is a deadly technique when jacks are schooled up in deeper holes.
The Jerk Shad also is a great choice for fishing shoreline cover and drop offs. Jack crevalle will cruise the edges of oyster bars in search of food. This lure can be hopped down the edge, dropping off into deeper water. This is a very effective presentation for jacks and other species.
5)  Rapala Skitter Walk
Jack crevalle can often times be caught on the surface. Many anglers will argue that nothing beats a surface bite! Therefore, a topwater plug needs to be included in the list of top X jack crevalle fishing lures.
My favorite topwater plug is the Rapala Skitter Walk. Again, be sure to get the saltwater model. The bait is most often associated with the "walk the dog" retrieve. This is accomplished by keeping the rod tip low and twitching the rod tip while reeling it in. When the proper pace is used, it will dance back and forth very seductively.
It is very important to set the hook properly when fishing with a topwater plug. The angler needs to wait until the weight of the fish is felt, then set the hook off to the side. Setting the hook too quickly can result in a dangerous situation as the plug comes flying back in.
6)  Clouser Minnow fly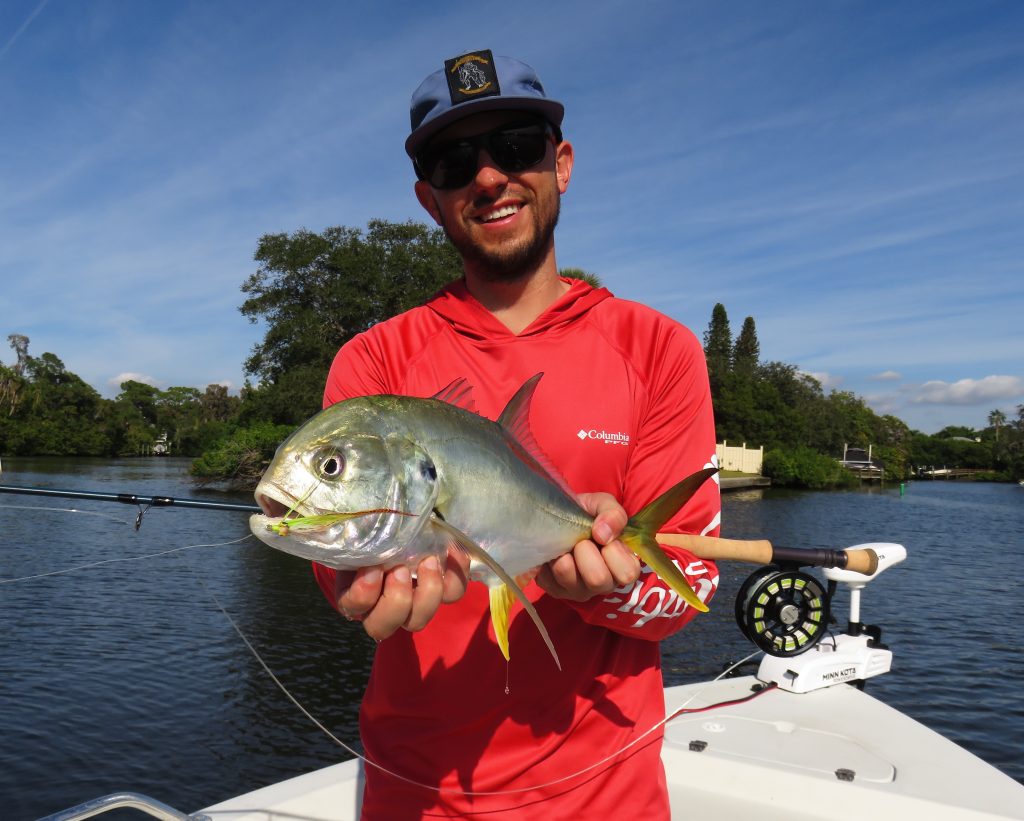 The final entry on my list of top jack crevalle fishing lures is not a lure, but instead a fly. Jacks are the perfect species to target on fly. They are aggressive and often tiome short casts will get the job done. This is especially true in winter when the congregate in creeks and rivers.
My favorite saltwater fishing fly is the Clouser Deep Minnow. It catches a wide variety of species, including jack crevalle. It is hard to beat chartreuse over white, but in reality the presentation is more important than the color. A # 1/0 hook works well on an 8wt or 9wt outfit. Sink tip lines are very versatile.
In conclusion, this article on my top 6 jack crevalle fishing lures will help anglers catch more of these terrific saltwater game fish!