Summer snook fishing in Sarasota!
Candice headed out on Sarasota Bay on a Sunday afternoon with her step-father to do a little tubing, a little fishing, and enjoy the afternoon on the water. The tide was running out hard and pass crabs were all over the surface. So, they netted a few up, dropped them to the bottom near some rocky structure in Big Pass, and before long she had her hands full with a large snook! It was a tough battle in the swift tide, but Candice subdued the fish, hoisted it up for a quick photo, and released her unharmed to go make babies. She landed several others as well. Summer snook fishing in Sarasota!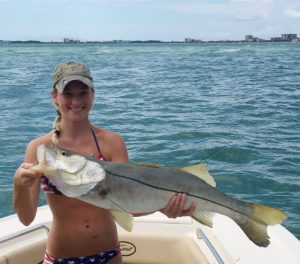 An over-slot snook caught at 2:00 on a Sunday afternoon? Yep. There is no doubt amongst anglers along the west coast of Florida that snook have made a rousing comeback since the big cold-water fish kill in 2010. Some anglers credit several mild winters for the increase in snook numbers while others feel the strict management of the species is responsible for the great action. Whatever the reason, snook are pleasing fisherman throughout the region.
As a fishing guide in Sarasota, I am out on the water around 250 days a year. Clients on Siesta Key fishing charters caught more snook this spring than they had in years, and in places that would not normally be associated with snook, especially open grass flats. Many of the snook are "schoolies" in the 16" to 24" range, but there are plenty of big fish around as well.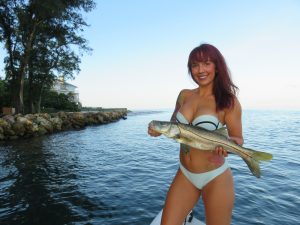 Local snook migrations are pretty basic. They move into creeks, rivers, and residential canals in the winter to escape the extreme temperature fluctuations of the flats. As it warms up they migrate out into the inshore areas to feed up, then by early summer most fish are in the passes and out on the beaches in preparation of spawning. The pattern the reverses itself as the fish move back into the bays and eventually back into the creeks if it gets cold enough.
Passes all along Florida's west coast are full of snook of all sizes right now. Outgoing tides early or late in the day and at night are prime times to tame a linesider. Live bait will usually produce the most fish. Large pilchards are a prime bait, but hand-picked shrimp, 3" pinsfish and grunts, and as Candice proved, even crabs will entice a hungry snook. Stout tackle is required when fishing in heavy current and around structure. Diving plugs and soft plastics bumped along the bottom will fool wily snook as well. Summer snook fishing in Sarasota.
Sight casting for snook on the beach is great fun and lighter tackle can be used. Snook will cruise the surf line within a few feet of shore in search of a meal. These fish will spook, so a delicate presentation is required. Small white bucktail jigs are very effective, as are shrimp imitations and small plugs. Fly anglers score with white minnow patters such as the D.T. Special and Clouser Minnow.
Summer snook fishing in Sarasota can yield some true lunker fish!