Manatee River fishing charter
My name is Capt. Jim Klopfer and I offer anglers a unique experience; a Manatee River fishing charter! Many quality guides fish the Manatee River near its mouth at rattlesnake point. This is true saltwater fishing. However, I fish a different portion of the river that is brackish were anglers have the opportunity to catch both saltwater species and freshwater species using the same lures in the same locations.
The Manatee River begins its life as a trickle in Eastern Manatee County. It flows west towards Tampa Bay. About halfway a large dam was built to create Lake Manatee. This is a good freshwater fishery. Below the dam, the water becomes brackish. During periods of low rainfall the brackish water may push all the way up to the dam.
The stretch of the Manatee River that I fish is from the new boat ramp at Fort Hamer East to the dam. This is a beautiful stretch of river that offers anglers a wide variety of species. At the top of the list is snook, the premier inshore saltwater game fish which migrate up into the rivers in the winter. Other saltwater species include jacks, juvenile tarpon, redfish, ladyfish, and more. Largemouth bass are commonly caught as our catfish and gar.
Manatee River fishing charter
Just like the Myakka River in the Braden River, the Manatee River has its own personality. Unfortunately, development and pressure have increased over the years. However, the river in this portion is idle speed only and it is a comfortable river to fish with plenty of good scenery. The recently built boat ramp and the bridge make accessing the river very easy. Here is a link to the ramp at Fort Hamer.
My River fishing charters are really best for more experienced anglers. Generally speaking, this is not a situation in which a lot a fish will be caught. Instead, it is more about quality sized fish while doing so in a really cool and unique environment. Literally every cast has a chance of fooling a 20 pounds!
After launching the boat, I generally had East or upriver. In the cooler months, which is the time of year that I fish the river, the tides are often very low in the morning. The Manatee River has some long very shallow stretches and their needs to be enough water in order to get around. For that reason, afternoon incoming tides are often the best time to fish.
Manatee River fishing tackle and techniques
I use medium spinning tackle on most of my Manatee River fishing charters. These are 7 foot medium action rods 2500 series reels spooled up with 20 pound braided line. A 24 inch piece of 30 pound fluorocarbon leader completes the rig. This tackle allows anglers to cast all day without getting tired while still giving them a good chance to land a large fish.
Fly anglers can definitely get in on the action as well! In fact, I am running more and more river fly fishing charters. What advantage to doing so is that the rivers offer protection from the wind, which can be a problem in Florida in the wintertime. The best rig is a 9wt rod with an intermediate sink tip line. A short leader around 6 feet long consisting of a 3 foot 50 pound butt section and a 3 foot 30 pound tippet will get the job done. In most cases, I tie on a Clouser Minnow fly.
Drift fishing techniques
The fishing technique is actually pretty straightforward. As the boat drifts along with the tide, I have my anglers cast towards shoreline structure and cover. This is very similar to freshwater bass fishing and is something that a lot of anglers are comfortable doing. Fallen trees are the primary cover, but there are sections with rip rap, docks, and even bridges.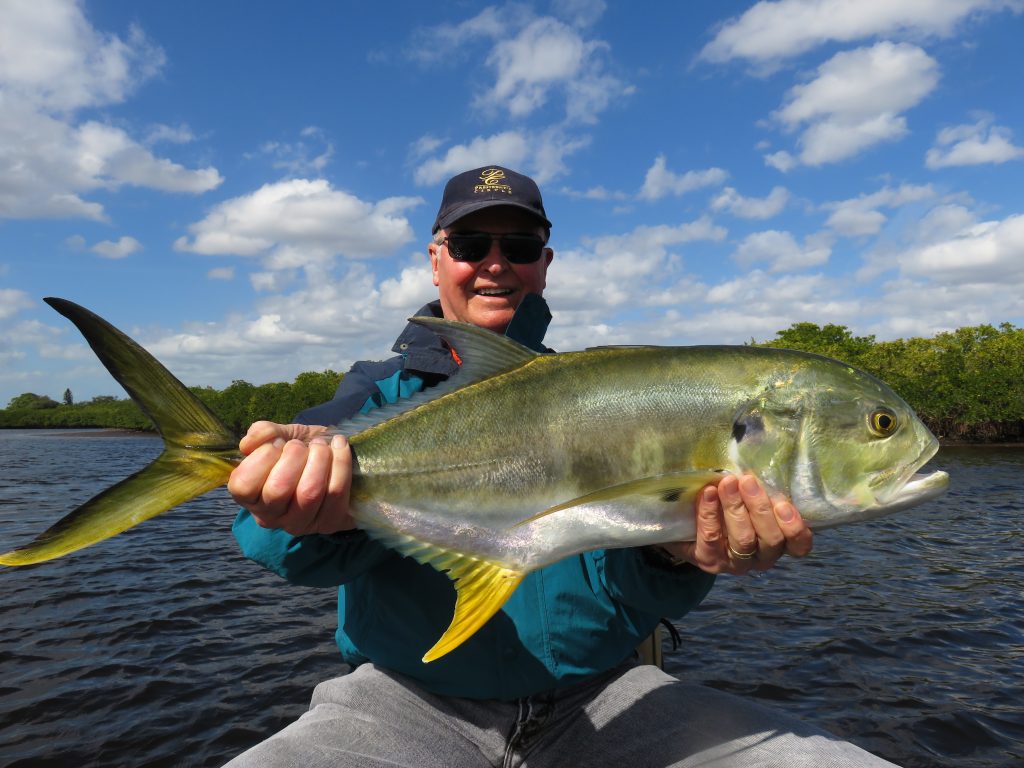 River is a Rapala X-Rap in the 10 size, either gold, white, or pilchard. These lures allow anglers to cover a lot of water, the strike is unmistakable, and the hookup ratio is pretty good. They also dive down several feet below the surface while still staying above the bottom, reducing snags. There are times when I will drop down to the smaller 08 size.
The other lure that I use is a 5 inch white Gulp Jerk Shad. The scent really gives anglers a bit of an advantage. I fish this on a jig head or a swim bait hook. This is an excellent lure when the water is cold or and the fish are down a bit deeper and not quite as active. The downside is that when hopped along the bottom, it will snag more often.
Species caught in the Manatee River
Of the three rivers that I fish, the Manatee River offers anglers the most diversity. This is probably because it is a bit more condensed, with the brackish portion only being about 8 miles long or so. This concentrates the fish into a smaller area.
Snook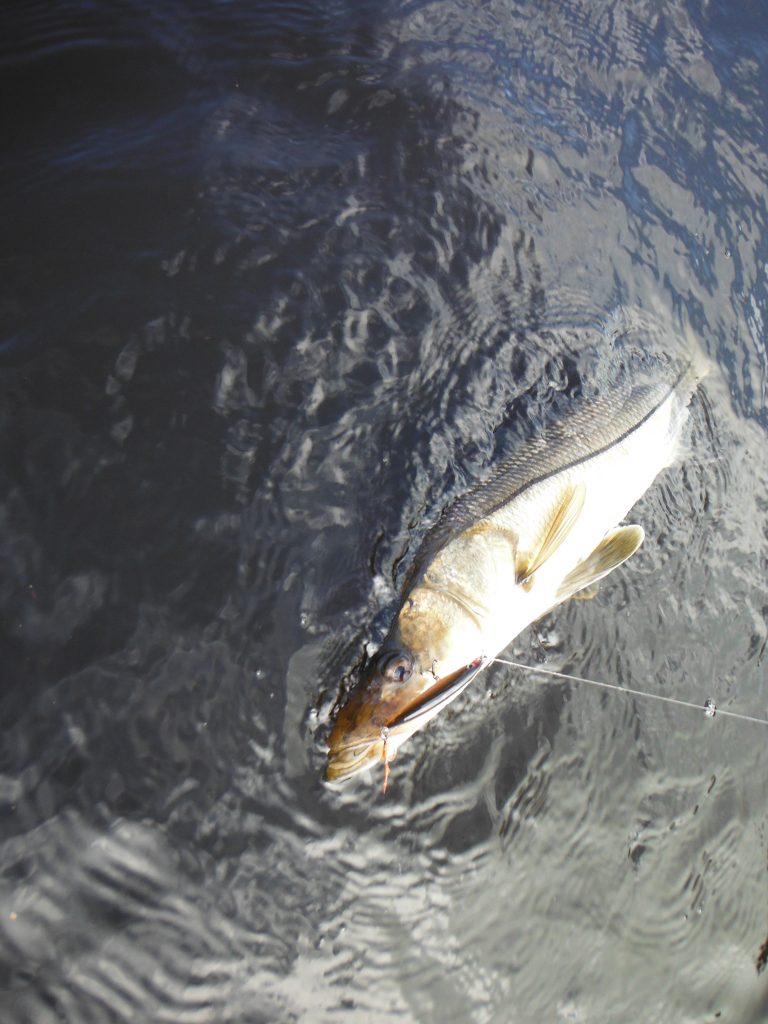 There is no doubt that the most sought after game fish in the river is the snook. Snook are interesting in the fact that they have the ability to live in pure salt or pure freshwater. They are also one of the few species that migrate up into freshwater for reasons other than spawning. Snook have a very large mouth and a wide broad tail, which makes them excellent ambush predators.
Snook range in size from 15 inches to 20 pounds or more. Part of the fun of this kind of fishing charter is that anglers never know when or where the big one will bite. Just like bass, snook are most often hooked near some type of structure, particularly fallen trees. When water is running through the dam, they will move all the way up river and stage just below the dam to feed. This is a long way up, but worth the trip when it's going on.
Jack crevalle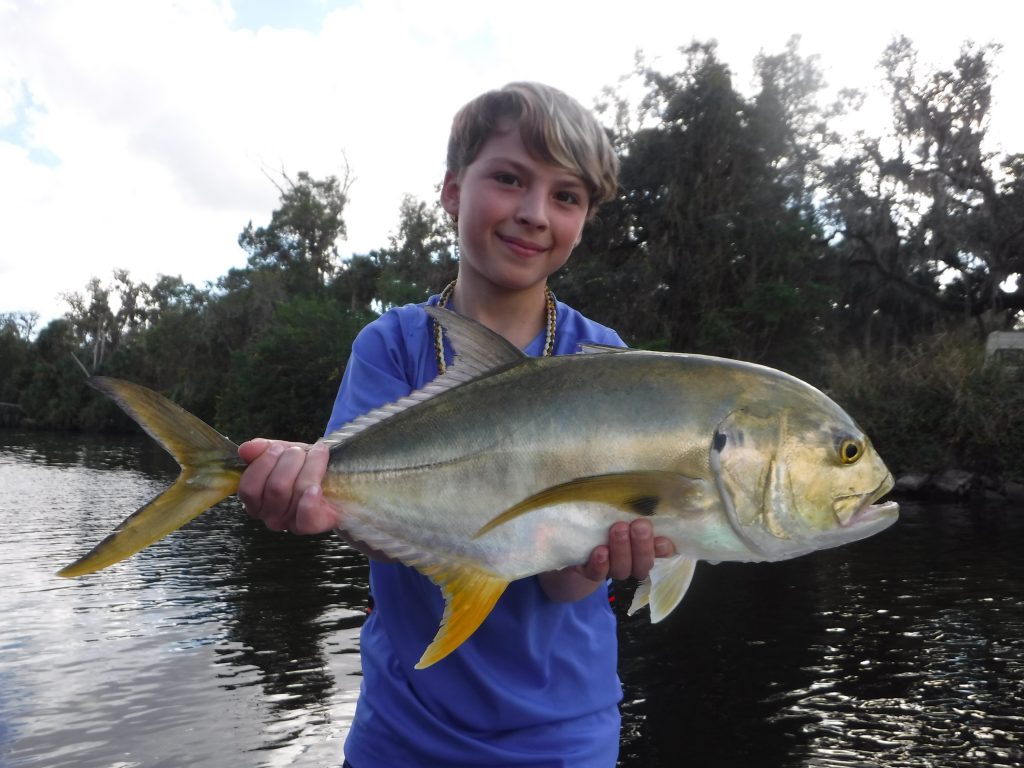 Jack crevalle are the bar room brawlers of saltwater. They are mean, nasty, and very strong, using their broad sides to pull against an angler. Jacks are often located in schools feeding on the surface. When this occurs, a bite is a virtual certainty. They can also be caught I anglers blind casting for other species. Some anglers look down on jacks due to the fact that they're not good to eat, but I would not be one of those! Anglers would be hard-pressed to find any game fish that fight harder than they do.
Largemouth bass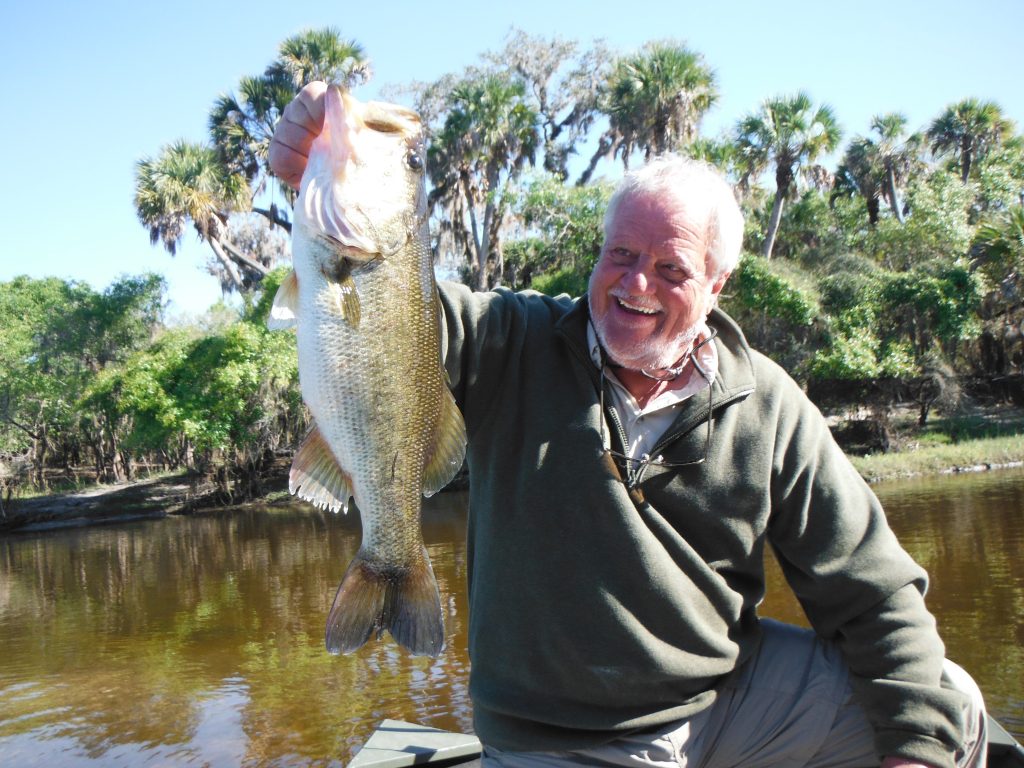 Largemouth bass are fairly plentiful in the Manatee River as well. I imagine that most to get in the river through the dam, but I'm sure that they spawn in the river as well. Most of these fish are chunky, football shaped fish in the to pound range. Even at that size, they put up a decent fight on the light tackle that I use. Most of them are very dark in color, especially on their backs, due to the tannin stained water.
Tarpon
Juvenile tarpon can certainly be encountered in the Manatee River as well. When they are around, this is one instance where I might go West from the boat ramp downstream as opposed to upriver. Tarpon can often be seen milling about on the surface or rolling. Tarpon can be very fussy, and even if a take occurs they can be difficult to hook and land. Most of the tarpon hooked on my trips are done so by anglers just casting lures for other species. It is always exciting and great fun when a tarpon intercepts the lure and leaps high up out of the water.
Redfish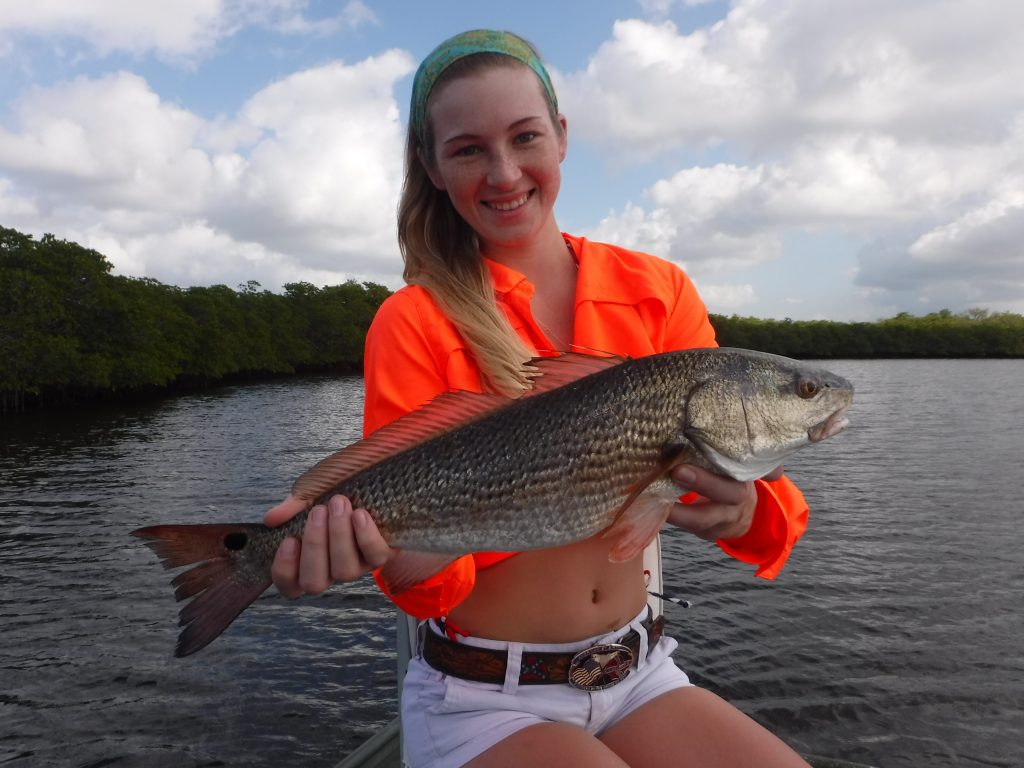 Redfish will move up into the river as well. However, they seem to prefer a saltier environment and if there has been a lot of rain or if the saltwater has not moved up very far, they will not be around. In fact, I don't catch a ton of redfish in the Manatee River in the portion that I fish. They are quite plentiful near the mouth of the river, especially late summer and fall.
Ladyfish
Ladyfish will definitely move up into this portion of the river. Unlike the other species, ladyfish are usually hooked right out in the middle. They tend to come through in schools and can sometimes be seen flipping on the surface. They will readily take the larger lures, but a smaller jig and grub is a better bet. For the most part, I do not target ladyfish but they are a welcome addition to add a little action to the trip.
Catfish
Lake Manatee and the Manatee River are outstanding catfish fisheries! Most of these are channel catfish set average around 5 pounds. Many anglers are surprised to find out that they are readily caught on artificial lures and will even take flies. They put up a terrific fight on light tackle and I think they are actually pretty when caught up in the rivers. Anglers who are serious about catching catfish bottom fish with fresh cut bait, but that is not something I do on my charters.
Gar are another freshwater fish that anglers will encounter in the Manatee River. Most average a little over 3 feet long and fish to five or 6 feet long are not uncommon. They are difficult to hook as there mouth is very bony and full of teeth. However, they put up a tremendous fight on light tackle that I use.
In conclusion, this article on a Manatee River fishing charter will help anglers understand the options available to them when visiting the Siesta Key area!